Balsham, South Cambridgeshire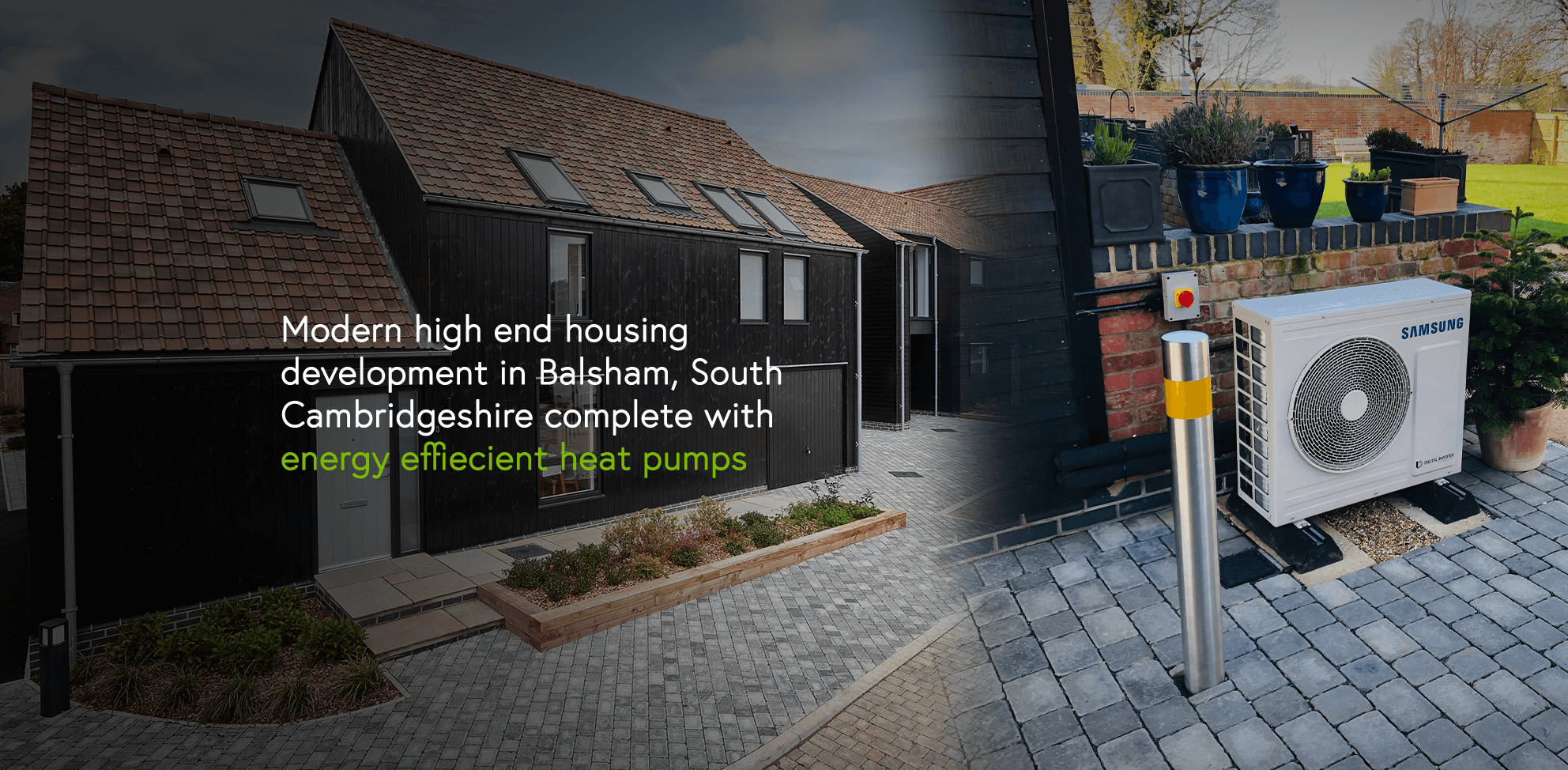 An energy efficient solution
Nicola from Dean & Dean explains: For our development at Balsham Dairy, we used the Joule / Samsung heat pump package with underfloor heating and aluminum radiators. Joule's designs were customised for our project resulting in the most efficient system possible. Communication with Joule UK was very good throughout and onsite support was quickly provided to our installer when required. This type of system was new to many of our buyers, but Joule sent their representative to the site to talk it through with the homeowners when needed and was always available to answer any specific queries. Overall we're more than happy and would definitely recommend Joule to other developers
Nicola Collins Dean & Dean
PA to the Directors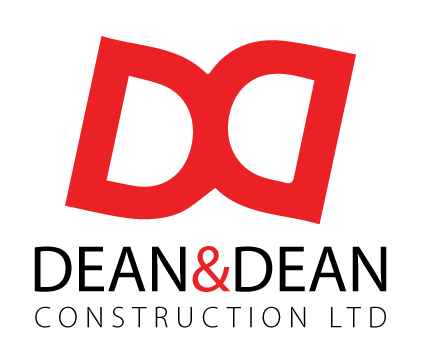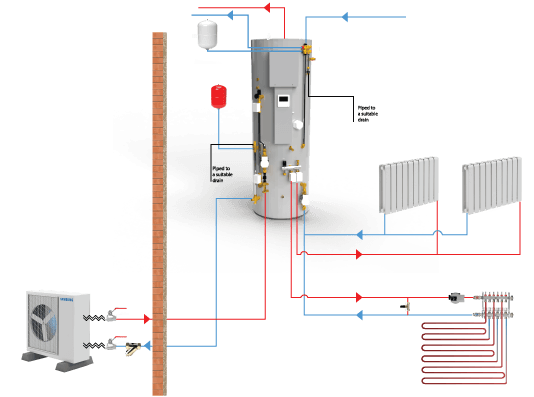 Smart Plumb System
Dean & Dean choose to install a smart plumb system. The smartplumb cylinder system comes complete with an integral buffer. This ensures you have superior flow rates, better performance in defrost and an all round more efficient system. The buffer volume allows the heatpump to carry out its defrost cycle, "when the heatpump outside gets near freezing temperatures it takes some of the heat from the pipework inside and uses it to heat up the outside unit". With the buffer built into the footprint of the cylinder, less space is needed. No other system on the market today offers this flexibility.
Running Cost
The seasonal coefficient of performance for this property was calculated at approximately 3.2. This means that it is expected that the heatpump system will produce 3.2 units of energy (kWh) per single unit of electrical energy required to run the heatpump. According to Energy Saving Trust figures for the year to April 2020, heating oil averaged 4.8p per kWh. While gas cost 4.2p and LPG cost 7.2p. By contrast, standard-rate electricity cost 16.4p per kWh, while off-peak electricity averaged 9.8p. Heating oil prices are a little higher than mains gas – but it's important to consider the environmental impact, too. Oil is a fossil fuel and one of the worst polluting energy sources. The Energy Saving Trust calculates that one kilowatt-hour of energy from gas results in 208g of carbon dioxide (CO2) being released. For LPG this is 241g, and for heating oil it rises to 298g – that's 43% more than gas!
The great thing about the Samsung and Joule heatpump system is you can easily see live energy performance figures from the controller and if you instal the wifi upgrade you can see it on your phone. So the information will always be on hand.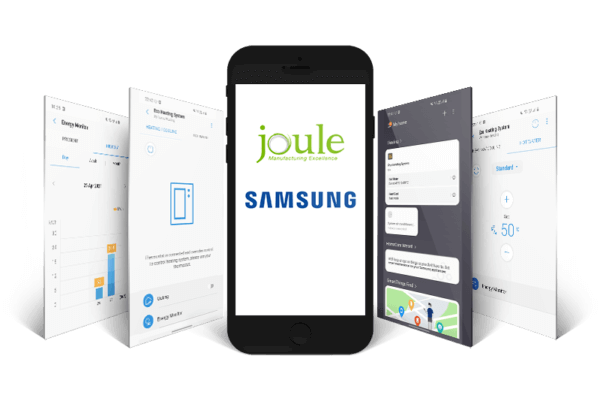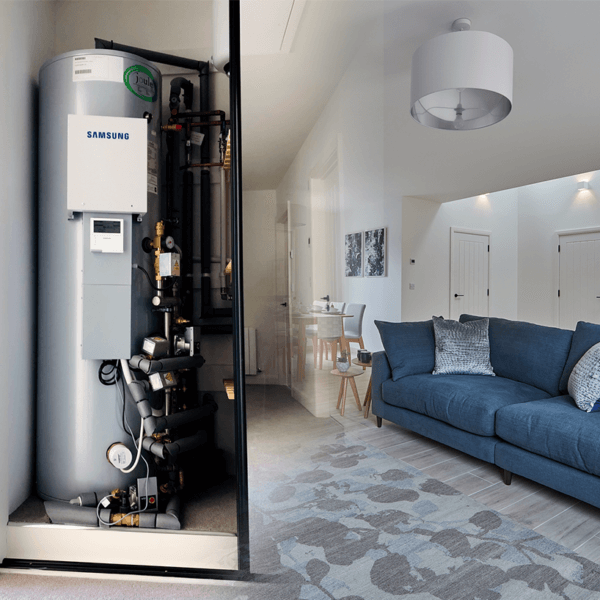 Working with Joule
Joule offers heating & plumbing design services through our dedicated in-house design team. Providing design packages to the new-build domestic market and all types of properties; from the self-build up to large sites for the major house builders throughout the UK and Ireland, involving all types of heating systems including solar and heat pumps. We are able to work closely with installers to provide the perfect solution for any project. Peter from PJ Brown Plumbing and Heating explains: We worked with Joule heat pump packages for the first time at Balsham Dairy in Cambridgeshire. After providing plans we were supplied with detailed quotations and product specification. On-site support was provided every step of the way and any snags were dealt with in a quick and efficient manner. The end result was efficient heating systems throughout and happy customers. We would definitely recommend Joule to other Plumbing & Heating companies and look forward to using them again on future projects.
Peter Brown
PJ Brown Plumbing & Heating
Service & Maintenance
All Joule Air to Water Heat Pumps maintenance package entitles you to an annual maintenance visit, during which our engineer will ensure that your Samsung Air to Water Heat Pumps supplied by Joule is operating within the optimum conditions to maximise energy efficiency. Any potential issue can be dealt with by a Joule engineer. You will also be entitled to a discount on the cost of spare parts and labour.
From as little as £360 Inc VAT per year.  All Samsung Air Source Heat Pumps supplied by Joule must be serviced annually to validate the product warranty under the terms of the EUW1 agreement.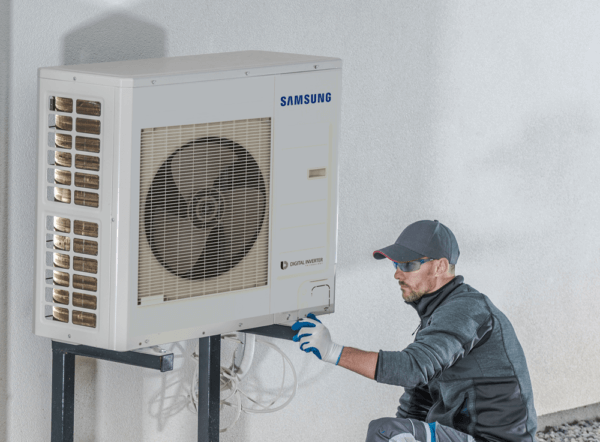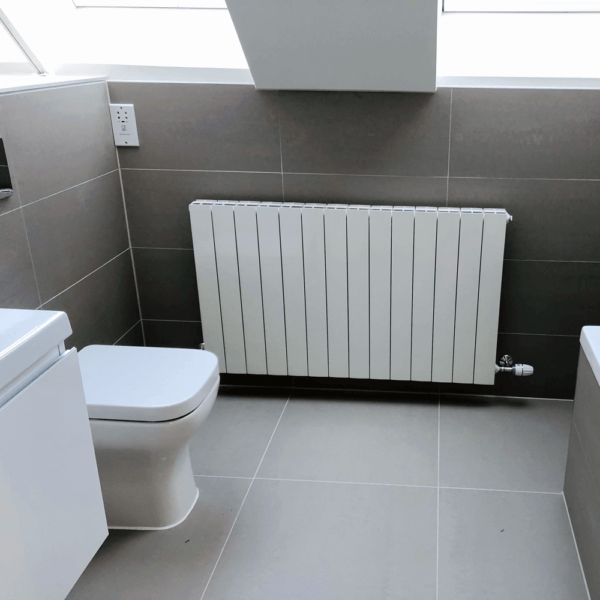 As a Homeowner
The Joule UK customer-focused policies have set us on a quest to achieve and maintain world-class service. We appreciate that in today's society consumer demands and expectations are very high so we will continually strive to improve our service to meet these demands. Mabel a homeowner at Balshan Dairy describes her experience with Joule: I have a Joule / Samsung Heat pump system in my new property. A Joule representative attended shortly after moving in and explaining how the system functions and how the controls work. It was actually really simple. As a homeowner, all I want is an efficient setup that works, and with this Joule system, I have exactly that. The combination of underfloor heating and radiators provide a nice even heat and i have hot water at the ready whenever I need it.
Mable
Homeowner at Balsham Dairy
Training & Support
Joule's commitment to support is demonstrated with the level of training provided. Joule run regular training courses for installers to attend. This allows the installer a chance to talk directly with Joule's experienced technical team and answer any questions that they may have. With a nationwide network of service engineers to further enhance our support offering, help is always on hand.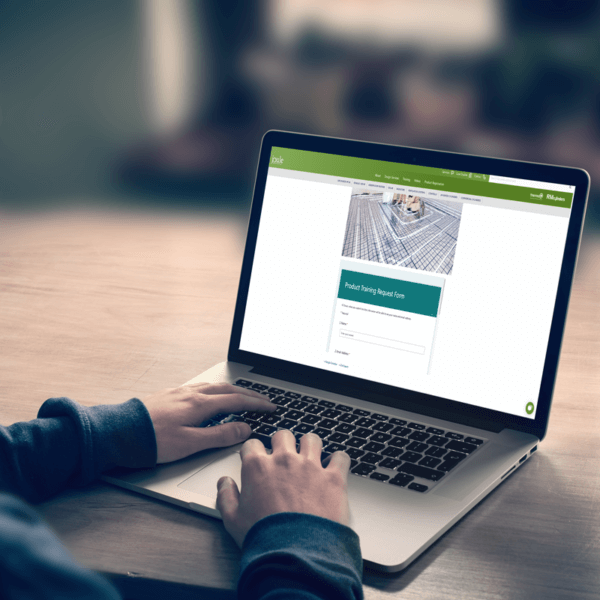 KB Renewables
Keith
086-3696442
Smart Heating
Declan
087-9918993
Heat Pump Eng Services
Paul
085-7553226
Zetta Limited
Gearoid
zetta.ie
KB Renewables
Keith
086-3696442
Smart Heating
Declan
087-9918993
Zetta Limited
Gearoid
zetta.ie
Thomas Neylan Plumbing & Heating
Thomas
086-1013706
Flowstar Plumbing & Heating
Michael
087-9665248
Eric McCarthy
Eric
086-1651294
Chris O Donnell
Chris
086-3610910
KB Renewables
Keith
086-3696442
Smart Heating
Declan
087-9918993
Zetta Limited
Gearoid
zetta.ie
Smart Heating
Declan
087-9918993
Zetta Limited
Gearoid
zetta.ie
Thomas Neylan Plumbing & Heating
Thomas
086-1013706
Flowstar Plumbing & Heating
Michael
087-9665248
KB Renewables
Keith
086-3696442
Smart Heating
Declan
087-9918993
Zetta Limited
Gearoid
zetta.ie
KB Renewables
Keith
086-3696442
Heat Pump Eng Services
Paul
085-7553226
KB Renewables
Keith
086-3696442
Heat Pump Eng Services
Paul
085-7553226
Zetta Limited
Gearoid
zetta.ie
KB Renewables
Keith
086-3696442
KB Renewables
Keith
086-3696442
Heat Pump Eng Services
Paul
085-7553226
Flowstar Plumbing & Heating
Michael
087-9665248
KB Renewables
Keith
086-3696442
Smart Heating
Declan
087-9918993
Smart Heating
Declan
087-9918993
Zetta Limited
Gearoid
zetta.ie
Thomas Neylan Plumbing & Heating
Thomas
086-1013706
KB Renewables
Keith
086-3696442
KB Renewables
Keith
086-3696442
Smart Heating
Declan
087-9918993
Zetta Limited
Gearoid
zetta.ie
Smart Heating
Declan
087-9918993
Zetta Limited
Gearoid
zetta.ie
KB Renewables
Keith
086-3696442
Heat Pump Eng Services
Paul
085-7553226
Zetta Limited
Gearoid
zetta.ie
KB Renewables
Keith
086-3696442
KB Renewables
Keith
086-3696442
KB Renewables
Keith
086-3696442
Heat Pump Eng Services
Paul
085-7553226
KB Renewables
Keith
086-3696442
Heat Pump Eng Services
Paul
085-7553226
KB Renewables
Keith
086-3696442
Smart Heating
Declan
087-9918993
KB Renewables
Keith
086-3696442
Zetta Limited
Gearoid
zetta.ie
KB Renewables
Keith
086-3696442
Smart Heating
Declan
087-9918993
Zetta Limited
Gearoid
zetta.ie
WATER HEATING SOLUTIONS
Keith Broadley
07957 440558
M. Farmer Plumbing, Heating & Lead Work
Martin Farmer
07990 570223
M. Farmer Plumbing, Heating & Lead Work
Martin Farmer
07990 570223
M. Farmer Plumbing, Heating & Lead Work
Martin Farmer
07990 570223
WATER HEATING SOLUTIONS
Keith Broadley
07957 440558
M. Farmer Plumbing, Heating & Lead Work
Martin Farmer
07990 570223
M. Farmer Plumbing, Heating & Lead Work
Martin Farmer
07990 570223
WATER HEATING SOLUTIONS
Keith Broadley
07957 440558
WATER HEATING SOLUTIONS
Keith Broadley
07957 440558
WATER HEATING SOLUTIONS
Keith Broadley
07957 440558
Southern Heating Services
Alan O'Neal
07973 258415
Southern Heating Services
Alan O'Neal
07973 258415
Southern Heating Services
Alan O'Neal
07973 258415
WATER HEATING SOLUTIONS
Keith Broadley
07957 440558
M. Farmer Plumbing, Heating & Lead Work
Martin Farmer
07990 570223
WATER HEATING SOLUTIONS
Keith Broadley
07957 440558
WATER HEATING SOLUTIONS
Keith Broadley
07957 440558
WATER HEATING SOLUTIONS
Keith Broadley
07957 440558
M. Farmer Plumbing, Heating & Lead Work
Martin Farmer
07990 570223
M. Farmer Plumbing, Heating & Lead Work
Martin Farmer
07990 570223
M. Farmer Plumbing, Heating & Lead Work
Martin Farmer
07990 570223
WATER HEATING SOLUTIONS
Keith Broadley
07957 440558
M. Farmer Plumbing, Heating & Lead Work
Martin Farmer
07990 570223
M. Farmer Plumbing, Heating & Lead Work
Martin Farmer
07990 570223
WATER HEATING SOLUTIONS
Keith Broadley
07957 440558
WATER HEATING SOLUTIONS
Keith Broadley
07957 440558
M. Farmer Plumbing, Heating & Lead Work
Martin Farmer
07990 570223
WATER HEATING SOLUTIONS
Keith Broadley
07957 440558
WATER HEATING SOLUTIONS
Keith Broadley
07957 440558
WATER HEATING SOLUTIONS
Keith Broadley
07957 440558
WATER HEATING SOLUTIONS
Keith Broadley
07957 440558
WATER HEATING SOLUTIONS
Keith Broadley
07957 440558
WATER HEATING SOLUTIONS
Keith Broadley
07957 440558
M. Farmer Plumbing, Heating & Lead Work
Martin Farmer
07990 570223
WATER HEATING SOLUTIONS
Keith Broadley
07957 440558
M. Farmer Plumbing, Heating & Lead Work
Martin Farmer
07990 570223
Southern Heating Services
Alan O'Neal
07973 258415
M. Farmer Plumbing, Heating & Lead Work
Martin Farmer
07990 570223
Martin Farmer
07990 570223
WATER HEATING SOLUTIONS
Keith Broadley
07957 440558
WATER HEATING SOLUTIONS
Keith Broadley
07957 440558
M. Farmer Plumbing, Heating & Lead Work
Martin Farmer
07990 570223
WATER HEATING SOLUTIONS
Keith Broadley
07957 440558
WATER HEATING SOLUTIONS
Keith Broadley
07957 440558
M. Farmer Plumbing, Heating & Lead Work
Martin Farmer
07990 570223
Southern Heating Services
Alan O'Neal
07973 258415
M. Farmer Plumbing, Heating & Lead Work
Martin Farmer
07990 570223
M. Farmer Plumbing, Heating & Lead Work
Martin Farmer
07990 570223
M. Farmer Plumbing, Heating & Lead Work
Martin Farmer
07990 570223
WATER HEATING SOLUTIONS
Keith Broadley
07957 440558
WATER HEATING SOLUTIONS
Keith Broadley
07957 440558
M. Farmer Plumbing, Heating & Lead Work
Martin Farmer
07990 570223
WATER HEATING SOLUTIONS
Keith Broadley
07957 440558
M. Farmer Plumbing, Heating & Lead Work
Martin Farmer
07990 570223
M. Farmer Plumbing, Heating & Lead Work
Martin Farmer
07990 570223
M. Farmer Plumbing, Heating & Lead Work
Martin Farmer
07990 570223
WATER HEATING SOLUTIONS
Keith Broadley
07957 440558
WATER HEATING SOLUTIONS
Keith Broadley
07957 440558
WATER HEATING SOLUTIONS
Keith Broadley
07957 440558
M. Farmer Plumbing, Heating & Lead Work
Martin Farmer
07990 570223
Scott Roberts
Area Sales Manager
Mob: 07497112050
Email: scott.r@jouleuk.co.uk
Matthew Nicholson
Area Sales Rep
Mob: 087 454 8155
Email: matthew@joule.ie
James Barrett
Area Sales Rep
Mob: 087 656 3613
Email: james@joule.ie
Ciaran Clohessy
Area Sales Rep
Mob: 087 357 6408
Email: ciaran@joule.ie
Eoin Naughton
Area Sales Manager
Mob: 086 773 5095
Email: eoin@joule.ie
Sean Collins
Area Sales Rep
Mob: 087 692 8114
Email: sean@joule.ie
Eoghan Conway
Area Sales Rep
Mob: 083 176 2372
Email: eoghan@joule.ie
Ronan Ginnell
Group MD
Mob: 077302 17060
Email: ronan@jouleuk.co.uk
Daniel Lang
Area Sales Manager
Mob: 07939895365
Adrian M Thompson
Commercial Director
Mob: 07949730432
Andrea Innes
Area Sales Manager
Mob: 07764 961624
Email: andrea.innes@jouleuk.co.uk
Craig McCrudden
Area Sales Manager
Mob: 07495 580932
Email: craig@jouleuk.co.uk
Paul Steward
Renewable Sales Manager
Mob: 07506 194540
Email: paul@jouleuk.co.uk
Rob Chalkley
Area Sales Manager
Mob: 07983 686720
Email: robert@jouleuk.co.uk