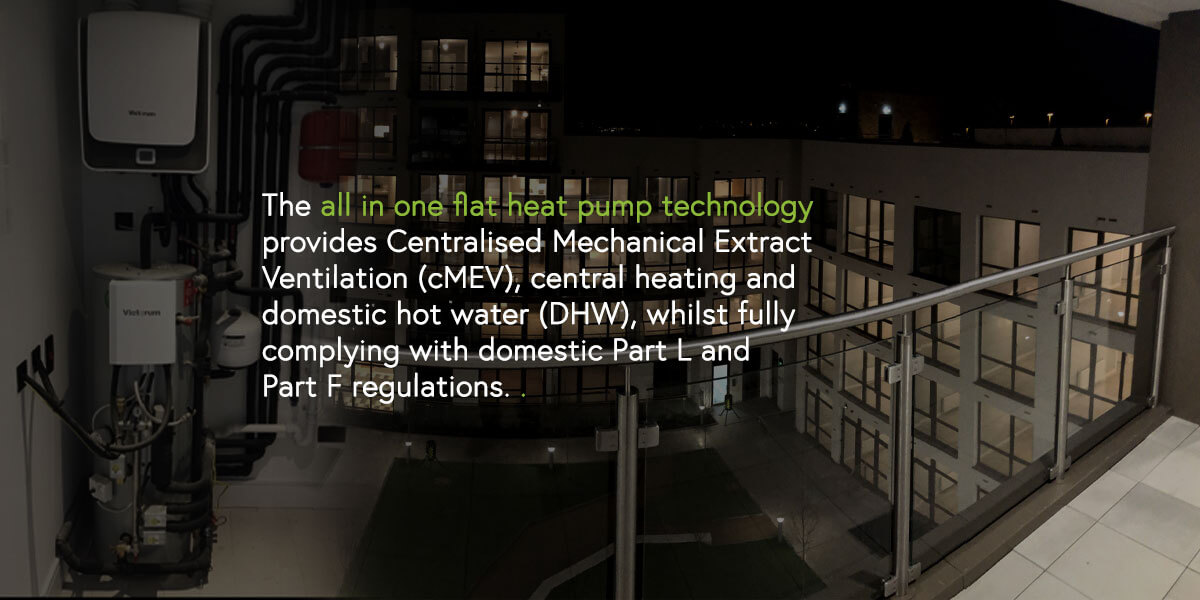 | | |
| --- | --- |
|   No of Units:   |   112 units |
|   Type of Build:   |   New build |
|   Type:        |   Build to rent (BTR) |
|   DEAP rating:    |   A2 |
|   Heat Emitter:   |   Steel Radiators |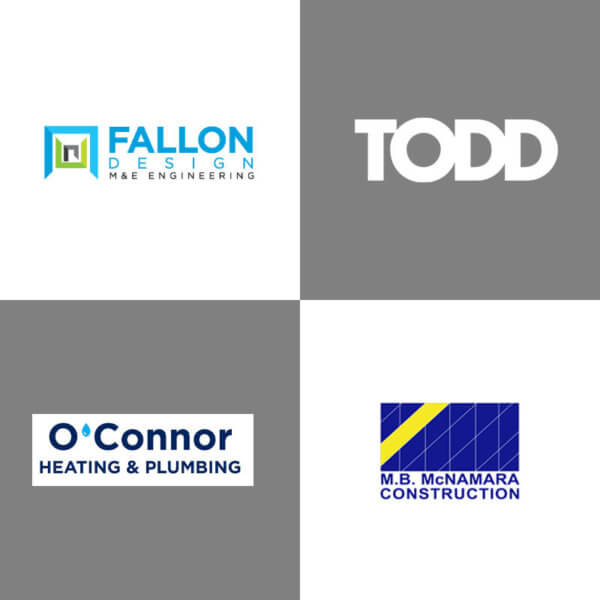 System Selection
McNamara Construction selected the Victorum EAHP for this BTR development to ensure that the method for compliance would be the most beneficial to the tenant. They wanted a standalone heating, hot water, and ventilation system that seamlessly fitted into their apartments designs.  Higher efficiencies, lower running costs, simple user experience, and minimised summer overheating risk were all key factors assessed before choosing the solution. OPEX studies were carried out to ensure that the maintenance costs over the product's lifespan proved more favorable compared to other technologies, which has become an important KPI in BTR system selections.
Compliance
The Victorum EAHP has the highest performance figures when looking to comply with Part L & Part F of the building regulations. Its efficiencies are 2nd to none and enable a seamless transition to NZEB. All apartments achieved an A2 energy rating without block compliance or the need for any supplementary technology. In addition to this Fallon Design chose the technology for its simplified plug and play arrangement ensuring continuity throughout the whole development. The unit's efficiencies are a testament to Joule's focus on designing & manufacturing products suitable for the Irish and UK markets.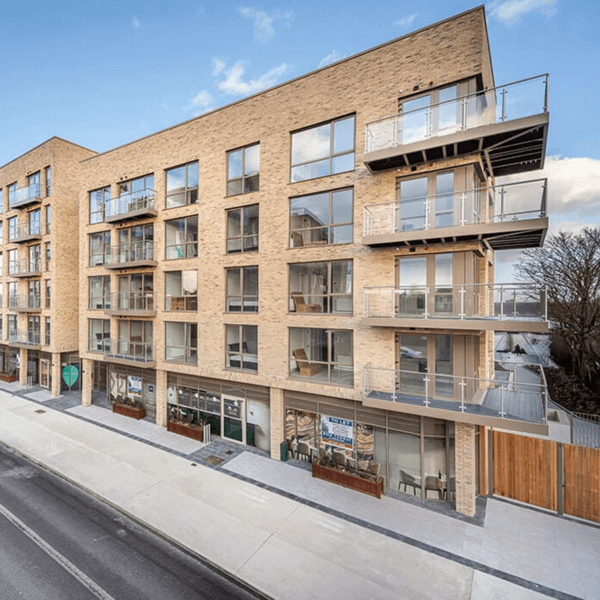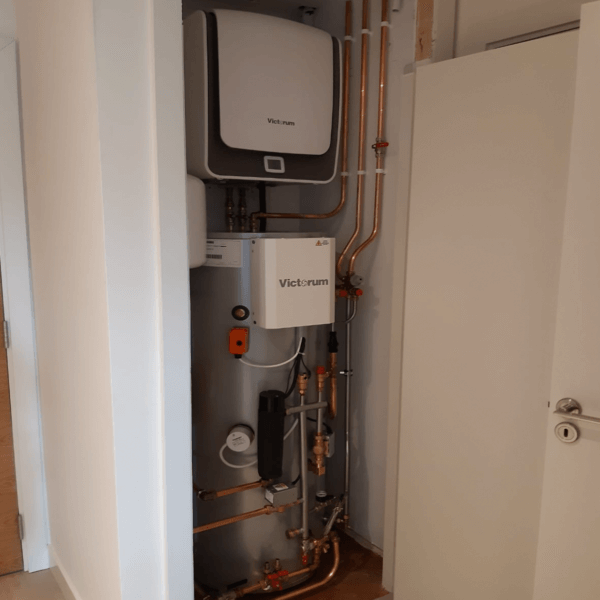 Installation
O'Connor Heating & Plumbing carried out all the mechanical services in the development. Service coordination of the sprinkler system, LPHW, and ducting was detailed at the design stage, ensuring optimal system performance with minimal material waste. O'Connor Heating & Plumbing's familiarity with the system ensures the storeroom details are consistent throughout, all levels of maintenance access achieved, and minimal floor areas utilised.
Service & Maintenance
As with all Joule heat pump systems, our commissioning engineers ensure every install is commissioned as per our recommendations. Certification is issued to the design team which forms part of the BCAR process for NZEB. In addition to this training, days were arranged for the facilities management company to allow their employees to familiarise themselves with the workings of the unit.
Location - Swiss Cottage Santry, Dublin 9

KB Renewables
Keith
086-3696442
Smart Heating
Declan
087-9918993
Heat Pump Eng Services
Paul
085-7553226
Zetta Limited
Gearoid
zetta.ie
KB Renewables
Keith
086-3696442
Smart Heating
Declan
087-9918993
Zetta Limited
Gearoid
zetta.ie
Thomas Neylan Plumbing & Heating
Thomas
086-1013706
Flowstar Plumbing & Heating
Michael
087-9665248
Eric McCarthy
Eric
086-1651294
Chris O Donnell
Chris
086-3610910
KB Renewables
Keith
086-3696442
Smart Heating
Declan
087-9918993
Zetta Limited
Gearoid
zetta.ie
Smart Heating
Declan
087-9918993
Zetta Limited
Gearoid
zetta.ie
Thomas Neylan Plumbing & Heating
Thomas
086-1013706
Flowstar Plumbing & Heating
Michael
087-9665248
KB Renewables
Keith
086-3696442
Smart Heating
Declan
087-9918993
Zetta Limited
Gearoid
zetta.ie
KB Renewables
Keith
086-3696442
Heat Pump Eng Services
Paul
085-7553226
KB Renewables
Keith
086-3696442
Heat Pump Eng Services
Paul
085-7553226
Zetta Limited
Gearoid
zetta.ie
KB Renewables
Keith
086-3696442
KB Renewables
Keith
086-3696442
Heat Pump Eng Services
Paul
085-7553226
Flowstar Plumbing & Heating
Michael
087-9665248
KB Renewables
Keith
086-3696442
Smart Heating
Declan
087-9918993
Smart Heating
Declan
087-9918993
Zetta Limited
Gearoid
zetta.ie
Thomas Neylan Plumbing & Heating
Thomas
086-1013706
KB Renewables
Keith
086-3696442
KB Renewables
Keith
086-3696442
Smart Heating
Declan
087-9918993
Zetta Limited
Gearoid
zetta.ie
Smart Heating
Declan
087-9918993
Zetta Limited
Gearoid
zetta.ie
KB Renewables
Keith
086-3696442
Heat Pump Eng Services
Paul
085-7553226
Zetta Limited
Gearoid
zetta.ie
KB Renewables
Keith
086-3696442
KB Renewables
Keith
086-3696442
KB Renewables
Keith
086-3696442
Heat Pump Eng Services
Paul
085-7553226
KB Renewables
Keith
086-3696442
Heat Pump Eng Services
Paul
085-7553226
KB Renewables
Keith
086-3696442
Smart Heating
Declan
087-9918993
KB Renewables
Keith
086-3696442
Zetta Limited
Gearoid
zetta.ie
KB Renewables
Keith
086-3696442
Smart Heating
Declan
087-9918993
Zetta Limited
Gearoid
zetta.ie
WATER HEATING SOLUTIONS
Keith Broadley
07957 440558
M. Farmer Plumbing, Heating & Lead Work
Martin Farmer
07990 570223
M. Farmer Plumbing, Heating & Lead Work
Martin Farmer
07990 570223
M. Farmer Plumbing, Heating & Lead Work
Martin Farmer
07990 570223
WATER HEATING SOLUTIONS
Keith Broadley
07957 440558
M. Farmer Plumbing, Heating & Lead Work
Martin Farmer
07990 570223
M. Farmer Plumbing, Heating & Lead Work
Martin Farmer
07990 570223
WATER HEATING SOLUTIONS
Keith Broadley
07957 440558
WATER HEATING SOLUTIONS
Keith Broadley
07957 440558
WATER HEATING SOLUTIONS
Keith Broadley
07957 440558
Southern Heating Services
Alan O'Neal
07973 258415
Southern Heating Services
Alan O'Neal
07973 258415
Southern Heating Services
Alan O'Neal
07973 258415
WATER HEATING SOLUTIONS
Keith Broadley
07957 440558
M. Farmer Plumbing, Heating & Lead Work
Martin Farmer
07990 570223
WATER HEATING SOLUTIONS
Keith Broadley
07957 440558
WATER HEATING SOLUTIONS
Keith Broadley
07957 440558
WATER HEATING SOLUTIONS
Keith Broadley
07957 440558
M. Farmer Plumbing, Heating & Lead Work
Martin Farmer
07990 570223
M. Farmer Plumbing, Heating & Lead Work
Martin Farmer
07990 570223
M. Farmer Plumbing, Heating & Lead Work
Martin Farmer
07990 570223
WATER HEATING SOLUTIONS
Keith Broadley
07957 440558
M. Farmer Plumbing, Heating & Lead Work
Martin Farmer
07990 570223
M. Farmer Plumbing, Heating & Lead Work
Martin Farmer
07990 570223
WATER HEATING SOLUTIONS
Keith Broadley
07957 440558
WATER HEATING SOLUTIONS
Keith Broadley
07957 440558
M. Farmer Plumbing, Heating & Lead Work
Martin Farmer
07990 570223
WATER HEATING SOLUTIONS
Keith Broadley
07957 440558
WATER HEATING SOLUTIONS
Keith Broadley
07957 440558
WATER HEATING SOLUTIONS
Keith Broadley
07957 440558
WATER HEATING SOLUTIONS
Keith Broadley
07957 440558
WATER HEATING SOLUTIONS
Keith Broadley
07957 440558
WATER HEATING SOLUTIONS
Keith Broadley
07957 440558
M. Farmer Plumbing, Heating & Lead Work
Martin Farmer
07990 570223
WATER HEATING SOLUTIONS
Keith Broadley
07957 440558
M. Farmer Plumbing, Heating & Lead Work
Martin Farmer
07990 570223
Southern Heating Services
Alan O'Neal
07973 258415
M. Farmer Plumbing, Heating & Lead Work
Martin Farmer
07990 570223
Martin Farmer
07990 570223
WATER HEATING SOLUTIONS
Keith Broadley
07957 440558
WATER HEATING SOLUTIONS
Keith Broadley
07957 440558
M. Farmer Plumbing, Heating & Lead Work
Martin Farmer
07990 570223
WATER HEATING SOLUTIONS
Keith Broadley
07957 440558
WATER HEATING SOLUTIONS
Keith Broadley
07957 440558
M. Farmer Plumbing, Heating & Lead Work
Martin Farmer
07990 570223
Southern Heating Services
Alan O'Neal
07973 258415
M. Farmer Plumbing, Heating & Lead Work
Martin Farmer
07990 570223
M. Farmer Plumbing, Heating & Lead Work
Martin Farmer
07990 570223
M. Farmer Plumbing, Heating & Lead Work
Martin Farmer
07990 570223
WATER HEATING SOLUTIONS
Keith Broadley
07957 440558
WATER HEATING SOLUTIONS
Keith Broadley
07957 440558
M. Farmer Plumbing, Heating & Lead Work
Martin Farmer
07990 570223
WATER HEATING SOLUTIONS
Keith Broadley
07957 440558
M. Farmer Plumbing, Heating & Lead Work
Martin Farmer
07990 570223
M. Farmer Plumbing, Heating & Lead Work
Martin Farmer
07990 570223
M. Farmer Plumbing, Heating & Lead Work
Martin Farmer
07990 570223
WATER HEATING SOLUTIONS
Keith Broadley
07957 440558
WATER HEATING SOLUTIONS
Keith Broadley
07957 440558
WATER HEATING SOLUTIONS
Keith Broadley
07957 440558
M. Farmer Plumbing, Heating & Lead Work
Martin Farmer
07990 570223
Scott Roberts
Area Sales Manager
Mob: 07497112050
Email: scott.r@jouleuk.co.uk
Matthew Nicholson
Area Sales Rep
Mob: 087 454 8155
Email: matthew@joule.ie
James Barrett
Area Sales Rep
Mob: 087 656 3613
Email: james@joule.ie
Ciaran Clohessy
Area Sales Rep
Mob: 087 357 6408
Email: ciaran@joule.ie
Eoin Naughton
Area Sales Manager
Mob: 086 773 5095
Email: eoin@joule.ie
Sean Collins
Area Sales Rep
Mob: 087 692 8114
Email: sean@joule.ie
Eoghan Conway
Area Sales Rep
Mob: 083 176 2372
Email: eoghan@joule.ie
Ronan Ginnell
Group MD
Mob: 077302 17060
Email: ronan@jouleuk.co.uk
Daniel Lang
Area Sales Manager
Mob: 07939895365
Adrian M Thompson
Commercial Director
Mob: 07949730432
Andrea Innes
Area Sales Manager
Mob: 07764 961624
Email: andrea.innes@jouleuk.co.uk
Craig McCrudden
Area Sales Manager
Mob: 07495 580932
Email: craig@jouleuk.co.uk
Paul Steward
Renewable Sales Manager
Mob: 07506 194540
Email: paul@jouleuk.co.uk
Rob Chalkley
Area Sales Manager
Mob: 07983 686720
Email: robert@jouleuk.co.uk