JOULE – SAMSUNG HEATPUMP SOLUTIONS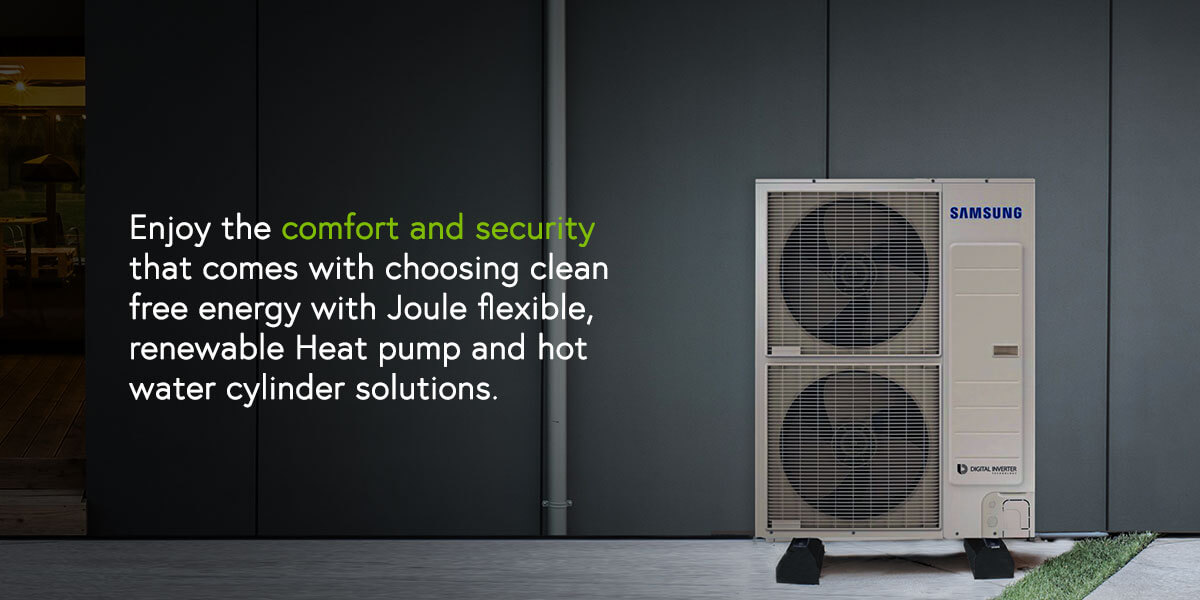 What is a Air to Water Heat Pump?
An air to water heat pump is not a new technology is an electrical device that extracts heat from one place and transfers it to another. A heat pump is not a new technology; it has been used around the world for decades. Refrigerators and air conditioners are both common examples of this technology.
Heat pumps transfer heat by circulating refrigerant through a cycle of evaporation and condensation. A compressor pumps the refrigerant between two heat exchanger coils. In one coil, the refrigerant is evaporated at low pressure and absorbs heat from its surroundings.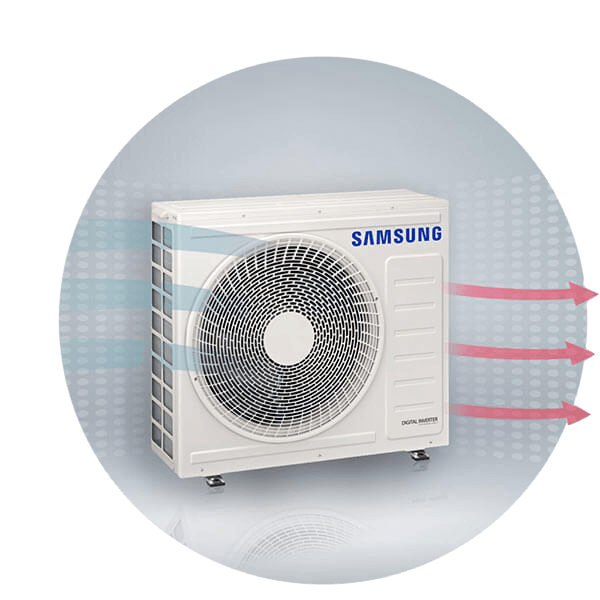 How Efficient is a Air to Water heat Pump?
| | | | |
| --- | --- | --- | --- |
| ENERGY SOURCE | INPUT COST | EFFICIENCY | OUTPUT COST |
| ASHP | 15.0p/kWh | 300% efficient | 5.0p/kWh |
| Mains Gas | 4.3p/kWh | 89% efficient | 4.8p/kWh |
| Electric | 15.0p/kWh | 100% efficient | 15.0p/kWh |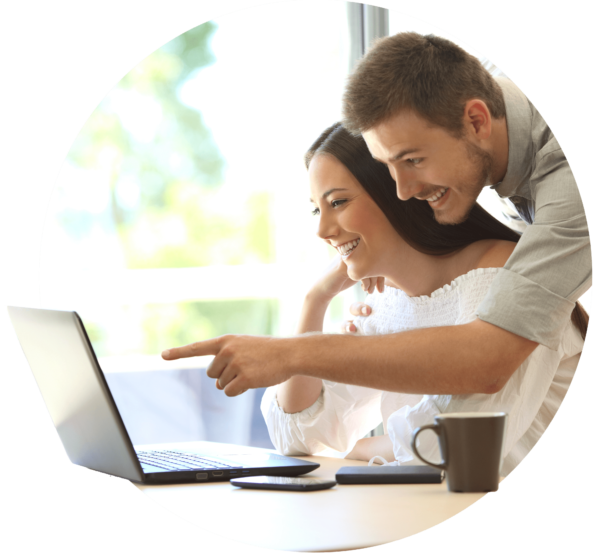 Are there grants available?
The Domestic Renewable Heat Incentive (Domestic RHI) is a UK Government financial incentive to promote the use of renewable heat. Switching to heating systems that use naturally replenished energy can help the UK reduce its carbon emissions. If you join and comply with the scheme rules, you'll receive quarterly payments for seven years for the amount of clean, green renewable heat the system produces.
Depending on your property size homeowners who take advantage of the scheme and meet the eligibility criteria could receive a payment of up to £2,000.00 with the average house in the UK receiving an annual payment of £1,000.00
Complete Solutions
Joule Heat Pump systems in conjunction with Samsung are one of the world's leading air to water heat pump suppliers. Using heat energy from ambient air, which is a free and renewable energy source, results in low-cost heating and hot water production. The Joule compact solution is built around a compact tank integrated hydro unit, with a large domestic hot water tank of either 180L or 230L. The compact and modular design makes for straightforward kitchen or utility room integration.
The Joule heat pump range suit most applications, the EHS mono air to water heat pump system includes flexible control options and hybrid capability, the system can be used in conjunction with solar and/or boiler installations. All heat pumps supplied by Joule have high performance at low temperatures, lightweight, and are compact for quick and easy installation.

We use Joule all the time because it is a decent product, they are efficient and good at what they do
Nick Cole, Director at NDC Plumbing and Heating
Air source heat pumps
Smart Grid Ready & PV Enabled
Integrates with All Users on the Grid.
Optimises the Power Supply.
Maximises Use of Renewable Energy Sources.
Solar PV-Ready

2020 Gen 6 Models
Hot Water: up to 65°C
Outputs: from 5 – 16 Kw
SCOP: up to 4.85

Smart Connectivity
Whole House Automation.
Zoned Temperature Control.
Touch Screen Controller.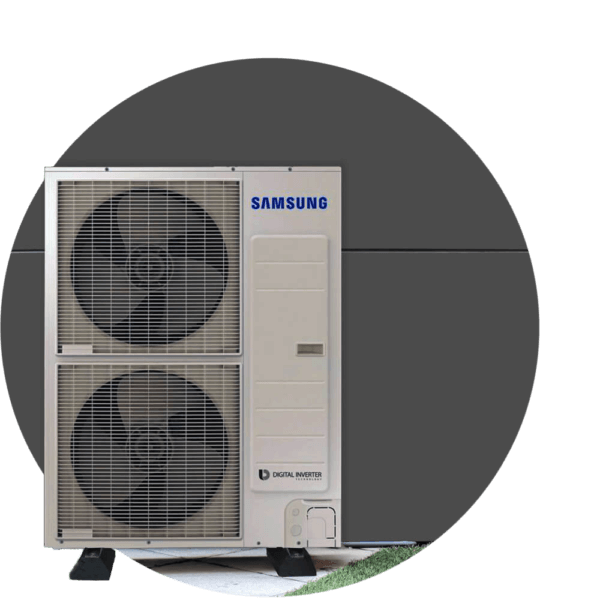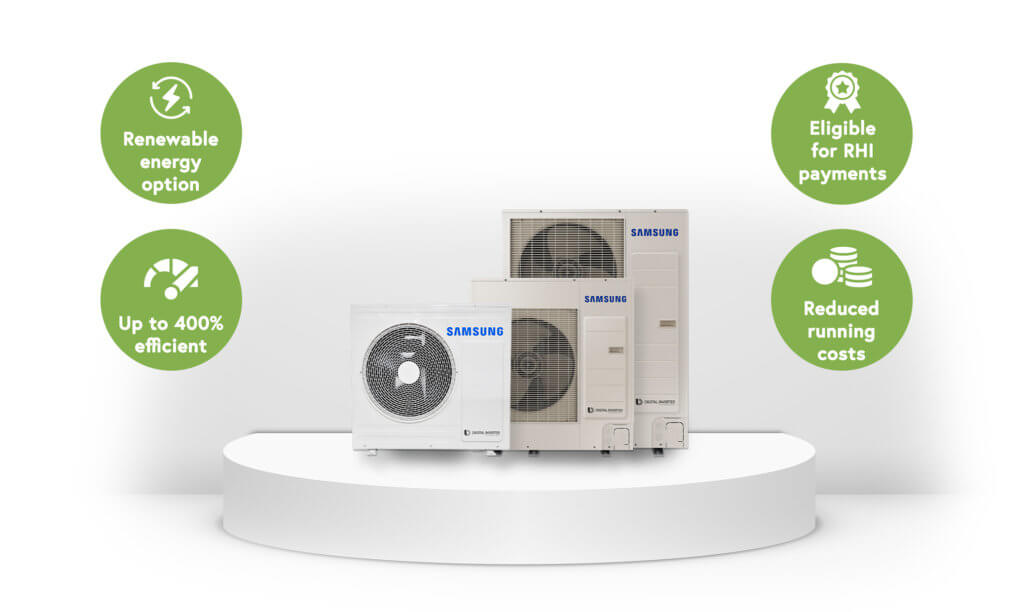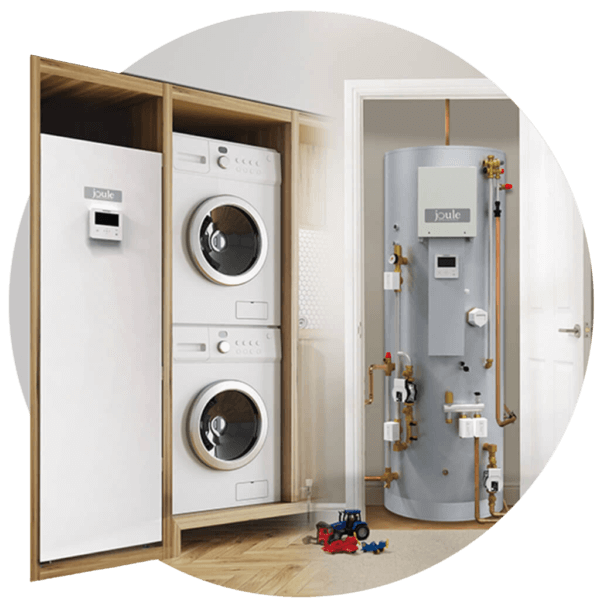 Pre-Plumbed Cylinders
Built on quality and performance, with one of the widest ranges of models available you can be sure there is a model to suit.
The Cyclone brand is noted for its attractive grey finish. Noticeably there is no cheap plastic used on the outer casing. Inside only the best materials are used, duplex stainless steel body, 316L grade stainless fittings and coils. For heat pump ready cylinders our coil quality sets us apart. Unlike most cheaper brands on the market Cyclone High Gain range of cylinders use high recovery smooth tube coils for optimal performance. No other coil type on the market today offers the same transfer rate as smooth stainless tube.
Joules Riva radiators
Joules Riva radiators are designed to offer a compact, attractive linear shape which provided a high thermal emission with low water content. Joule's radiators providing characteristics for a modern dwelling with its unique slim design allows for installation in the specific areas where width would be an issue.
The Riva radiators are made from premium aluminum which compared to standard steel radiators has many advantages such as having 30% more output than steel radiators. The Riva radiators offer both horizontal and vertical radiators both lightweight and robust, excellent heat conductivity, and ideal for use with Heat Pumps.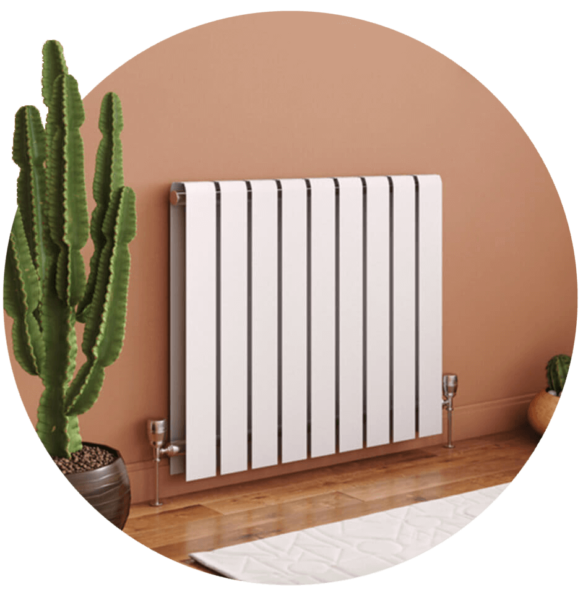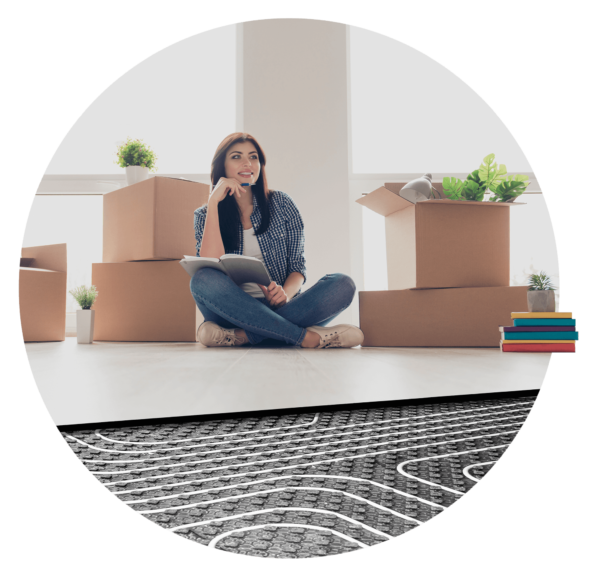 Underfloor Heating
Joule Underfloor Heating provides effortless comfort, with energy-efficient systems that provide a more natural, ambient temperature throughout the home, and with the widest range of water-based systems in the UK, we have a solution for every project and application.
Underfloor heating can be installed within a variety of different floor constructions. The different floor constructions comprise of solid screed floors, suspended floors, and floating floors.
KB Renewables
Keith
086-3696442
Smart Heating
Declan
087-9918993
Heat Pump Eng Services
Paul
085-7553226
Zetta Limited
Gearoid
zetta.ie
KB Renewables
Keith
086-3696442
Smart Heating
Declan
087-9918993
Zetta Limited
Gearoid
zetta.ie
Thomas Neylan Plumbing & Heating
Thomas
086-1013706
Flowstar Plumbing & Heating
Michael
087-9665248
Eric McCarthy
Eric
086-1651294
Chris O Donnell
Chris
086-3610910
KB Renewables
Keith
086-3696442
Smart Heating
Declan
087-9918993
Zetta Limited
Gearoid
zetta.ie
Smart Heating
Declan
087-9918993
Zetta Limited
Gearoid
zetta.ie
Thomas Neylan Plumbing & Heating
Thomas
086-1013706
Flowstar Plumbing & Heating
Michael
087-9665248
KB Renewables
Keith
086-3696442
Smart Heating
Declan
087-9918993
Zetta Limited
Gearoid
zetta.ie
KB Renewables
Keith
086-3696442
Heat Pump Eng Services
Paul
085-7553226
KB Renewables
Keith
086-3696442
Heat Pump Eng Services
Paul
085-7553226
Zetta Limited
Gearoid
zetta.ie
KB Renewables
Keith
086-3696442
KB Renewables
Keith
086-3696442
Heat Pump Eng Services
Paul
085-7553226
Flowstar Plumbing & Heating
Michael
087-9665248
KB Renewables
Keith
086-3696442
Smart Heating
Declan
087-9918993
Smart Heating
Declan
087-9918993
Zetta Limited
Gearoid
zetta.ie
Thomas Neylan Plumbing & Heating
Thomas
086-1013706
KB Renewables
Keith
086-3696442
KB Renewables
Keith
086-3696442
Smart Heating
Declan
087-9918993
Zetta Limited
Gearoid
zetta.ie
Smart Heating
Declan
087-9918993
Zetta Limited
Gearoid
zetta.ie
KB Renewables
Keith
086-3696442
Heat Pump Eng Services
Paul
085-7553226
Zetta Limited
Gearoid
zetta.ie
KB Renewables
Keith
086-3696442
KB Renewables
Keith
086-3696442
KB Renewables
Keith
086-3696442
Heat Pump Eng Services
Paul
085-7553226
KB Renewables
Keith
086-3696442
Heat Pump Eng Services
Paul
085-7553226
KB Renewables
Keith
086-3696442
Smart Heating
Declan
087-9918993
KB Renewables
Keith
086-3696442
Zetta Limited
Gearoid
zetta.ie
KB Renewables
Keith
086-3696442
Smart Heating
Declan
087-9918993
Zetta Limited
Gearoid
zetta.ie
WATER HEATING SOLUTIONS
Keith Broadley
07957 440558
M. Farmer Plumbing, Heating & Lead Work
Martin Farmer
07990 570223
M. Farmer Plumbing, Heating & Lead Work
Martin Farmer
07990 570223
M. Farmer Plumbing, Heating & Lead Work
Martin Farmer
07990 570223
WATER HEATING SOLUTIONS
Keith Broadley
07957 440558
M. Farmer Plumbing, Heating & Lead Work
Martin Farmer
07990 570223
M. Farmer Plumbing, Heating & Lead Work
Martin Farmer
07990 570223
WATER HEATING SOLUTIONS
Keith Broadley
07957 440558
WATER HEATING SOLUTIONS
Keith Broadley
07957 440558
WATER HEATING SOLUTIONS
Keith Broadley
07957 440558
Southern Heating Services
Alan O'Neal
07973 258415
Southern Heating Services
Alan O'Neal
07973 258415
Southern Heating Services
Alan O'Neal
07973 258415
WATER HEATING SOLUTIONS
Keith Broadley
07957 440558
M. Farmer Plumbing, Heating & Lead Work
Martin Farmer
07990 570223
WATER HEATING SOLUTIONS
Keith Broadley
07957 440558
WATER HEATING SOLUTIONS
Keith Broadley
07957 440558
WATER HEATING SOLUTIONS
Keith Broadley
07957 440558
M. Farmer Plumbing, Heating & Lead Work
Martin Farmer
07990 570223
M. Farmer Plumbing, Heating & Lead Work
Martin Farmer
07990 570223
M. Farmer Plumbing, Heating & Lead Work
Martin Farmer
07990 570223
WATER HEATING SOLUTIONS
Keith Broadley
07957 440558
M. Farmer Plumbing, Heating & Lead Work
Martin Farmer
07990 570223
M. Farmer Plumbing, Heating & Lead Work
Martin Farmer
07990 570223
WATER HEATING SOLUTIONS
Keith Broadley
07957 440558
WATER HEATING SOLUTIONS
Keith Broadley
07957 440558
M. Farmer Plumbing, Heating & Lead Work
Martin Farmer
07990 570223
WATER HEATING SOLUTIONS
Keith Broadley
07957 440558
WATER HEATING SOLUTIONS
Keith Broadley
07957 440558
WATER HEATING SOLUTIONS
Keith Broadley
07957 440558
WATER HEATING SOLUTIONS
Keith Broadley
07957 440558
WATER HEATING SOLUTIONS
Keith Broadley
07957 440558
WATER HEATING SOLUTIONS
Keith Broadley
07957 440558
M. Farmer Plumbing, Heating & Lead Work
Martin Farmer
07990 570223
WATER HEATING SOLUTIONS
Keith Broadley
07957 440558
M. Farmer Plumbing, Heating & Lead Work
Martin Farmer
07990 570223
Southern Heating Services
Alan O'Neal
07973 258415
M. Farmer Plumbing, Heating & Lead Work
Martin Farmer
07990 570223
Martin Farmer
07990 570223
WATER HEATING SOLUTIONS
Keith Broadley
07957 440558
WATER HEATING SOLUTIONS
Keith Broadley
07957 440558
M. Farmer Plumbing, Heating & Lead Work
Martin Farmer
07990 570223
WATER HEATING SOLUTIONS
Keith Broadley
07957 440558
WATER HEATING SOLUTIONS
Keith Broadley
07957 440558
M. Farmer Plumbing, Heating & Lead Work
Martin Farmer
07990 570223
Southern Heating Services
Alan O'Neal
07973 258415
M. Farmer Plumbing, Heating & Lead Work
Martin Farmer
07990 570223
M. Farmer Plumbing, Heating & Lead Work
Martin Farmer
07990 570223
M. Farmer Plumbing, Heating & Lead Work
Martin Farmer
07990 570223
WATER HEATING SOLUTIONS
Keith Broadley
07957 440558
WATER HEATING SOLUTIONS
Keith Broadley
07957 440558
M. Farmer Plumbing, Heating & Lead Work
Martin Farmer
07990 570223
WATER HEATING SOLUTIONS
Keith Broadley
07957 440558
M. Farmer Plumbing, Heating & Lead Work
Martin Farmer
07990 570223
M. Farmer Plumbing, Heating & Lead Work
Martin Farmer
07990 570223
M. Farmer Plumbing, Heating & Lead Work
Martin Farmer
07990 570223
WATER HEATING SOLUTIONS
Keith Broadley
07957 440558
WATER HEATING SOLUTIONS
Keith Broadley
07957 440558
WATER HEATING SOLUTIONS
Keith Broadley
07957 440558
M. Farmer Plumbing, Heating & Lead Work
Martin Farmer
07990 570223
Scott Roberts
Area Sales Manager
Mob: 07497112050
Email: scott.r@jouleuk.co.uk
Matthew Nicholson
Area Sales Rep
Mob: 087 454 8155
Email: matthew@joule.ie
James Barrett
Area Sales Rep
Mob: 087 656 3613
Email: james@joule.ie
Ciaran Clohessy
Area Sales Rep
Mob: 087 357 6408
Email: ciaran@joule.ie
Eoin Naughton
Area Sales Manager
Mob: 086 773 5095
Email: eoin@joule.ie
Sean Collins
Area Sales Rep
Mob: 087 692 8114
Email: sean@joule.ie
Eoghan Conway
Area Sales Rep
Mob: 083 176 2372
Email: eoghan@joule.ie
Ronan Ginnell
Group MD
Mob: 077302 17060
Email: ronan@jouleuk.co.uk
Daniel Lang
Area Sales Manager
Mob: 07939895365
Adrian M Thompson
Regional Sales Manager
Mob: 07949730432
Andrea Innes
Area Sales Manager
Mob: 07764 961624
Email: andrea.innes@jouleuk.co.uk
Craig McCrudden
Area Sales Manager
Mob: 07495 580932
Email: craig@jouleuk.co.uk
Paul Steward
Renewable Sales Manager
Mob: 07506 194540
Email: paul@jouleuk.co.uk
Rob Chalkley
Area Sales Manager
Mob: 07983 686720
Email: robert@jouleuk.co.uk