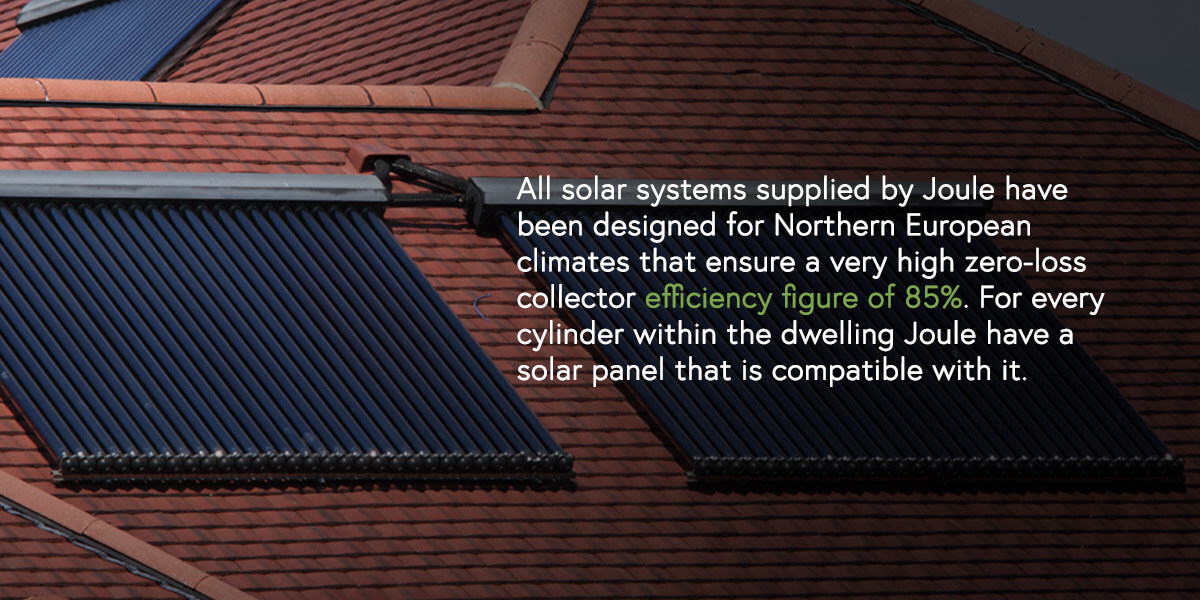 What Is a Solar Thermal Panel?
While solar PV panels use the energy from the sun to generate electricity, solar thermal panels use the sun to heat up water. As such, solar PV panels and solar thermals are two very different technologies. Solar thermal uses free renewable energy from the sun which, just like the solar PV panels, will help you save money and reduce your carbon footprint. Joule stock a complete range of solar thermal systems such as solar electricity and solar photovoltaics.
Solar thermal systems are suitable for every type of installation. From our high-efficiency Acapella evacuated tube collector solar system to our Navitas 2.0m in-roof solar panel systems and on-roof solar panel systems.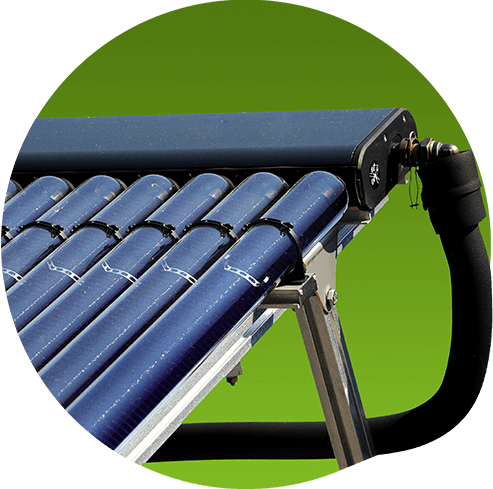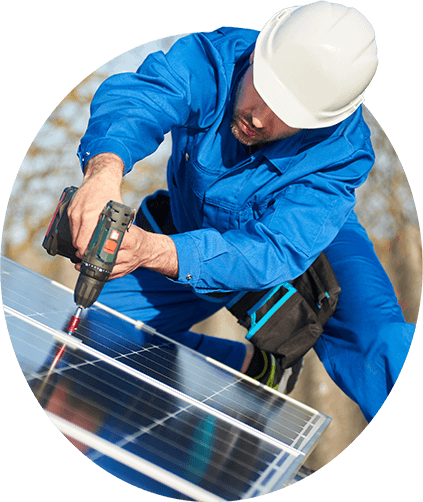 Features & benefits
Installing solar thermal hot water heating requires minimal upheaval and can deliver considerable cost savings, making this type of renewable technology a practical and cost-effective option for new-builds and existing properties.
Produces up to 70% of a property's annual hot water – as much as 90% in summer.
Suitable for every home, whether new build or retrofit.
Low-cost investment.
On-roof and in-roof solar panels available.
MCS approved for the Renewable Heat Incentive.
Advantages of Solar Panels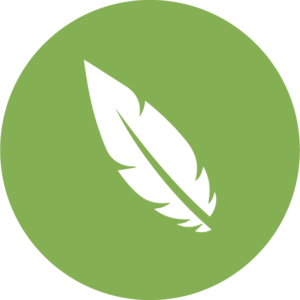 Renewable Energy Source
The most important benefit is that solar energy is a 100% renewable energy source. It's our future.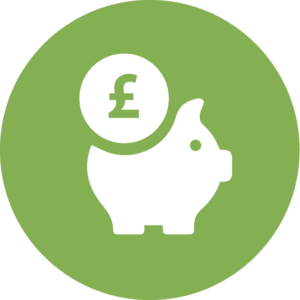 Reduce Bills
In the long run, it will save you a significiant of money. Solar thermal panels are really efficient.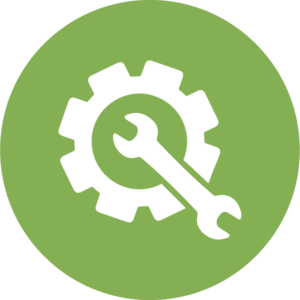 Low Maintenance
Solar thermal panels require little maintenance and only occasional planned servicing. You only have to keep them relatively clean.
How much hot water can a solar panel supply?
Solar thermal panels can account for up to 70% of a home's hot water demand
| | |
| --- | --- |
| Summer | 80 – 90% |
| Autumn and Spring | 40 – 50% |
| Winter | 20 – 30% |
What type of Cylinder?
A hot water cylinder with two heating coils (a twin-coil cylinder), or other multiple inputs.
Joule Cyclone range of hot water cylinders has been designed to work with any solar system. The twin solar cylinders are manufactured with 9mm sensor pockets for the solar controller to ensure that the solar system performs at its optimum level.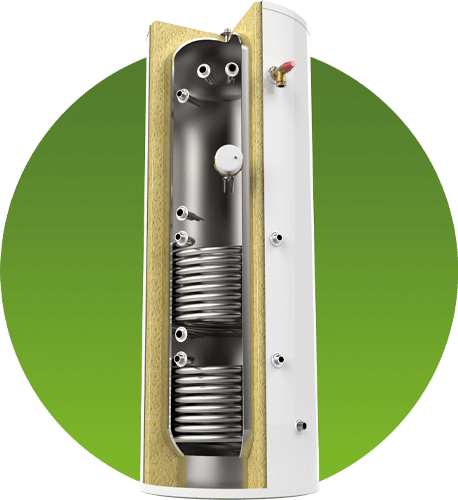 Zetta Home Servicing Ltd
0864020716
Zetta.ie
­
Smart Heating
0879918993
SmartHeating.ie
­
Crosbie Heat Pump Solutions
0833830047
Zetta Home Servicing Ltd
0864020716
Zetta.ie
­
Smart Heating
0879918993
SmartHeating.ie
­
Crosbie Heat Pump Solutions
0833830047
KB Renewables
0863696442
­
Zetta Home Servicing Ltd
0864020716
Zetta.ie
­
Smart Heating
0879918993
SmartHeating.ie
­
­
Crosbie Heat Pump Solutions
0833830047
­
IMECH MECHANICAL LTD
0838515489
Zetta Home Servicing Ltd
0864020716
Zetta.ie
­
Smart Heating
0879918993
SmartHeating.ie
­
John Curran
0877015222
­
Crosbie Heat Pump Solutions
0833830047
KB Renewables
0863696442
­
Martin Crosbie
0838380047
KB Renewables
0863696442
­
Zetta Home Servicing Ltd
0864020716
Zetta.ie
­
Flowstar Plumbing and Heating
0879665248
­
Eric Mc Carthy
0861651294
­
Crosbie Heat Pump Solutions
0833830047
­
Gary Keveney
0879903518
­
Chris O Donnell
0863610910
­
Trevor Bustard
0876785750
­
John Curran
0877015222
­
Crosbie Heat Pump Solutions
0833830047
Zetta Home Servicing Ltd
0864020716
Zetta.ie
­
Smart Heating
0879918993
SmartHeating.ie
­
KB Renewables
0863696442
­
A2W Servicing Ltd
0860223832
­­
­
Glenmac Heating & Plumbing Ltd
0877497476
­
Crosbie Heat Pump Solutions
0833830047
­
IMECH MECHANICAL LTD
0838515489
Zetta Home Servicing Ltd
0864020716
Zetta.ie
­
Smart Heating
0879918993
SmartHeating.ie
­
Crosbie Heat Pump Solutions
0833830047
KB Renewables
0863696442
­
Paddy Bourke Heating & Plumbing
0877982953
­
Thomas Neylan Plumbing & Heating
086 1013706
­
Alan Glynn
0876316206
­­
Tommy Farragher Heating & Plumbing
0879916019
­
heatpumpservicing.ie
838116760
­
Crosbie Heat Pump Solutions
0833830047
­
Bromur Energy
(091)766741
Oliver Mc Carthy - OM Mechanical
0872302685
­
Flowstar Plumbing and Heating
0879665248
­
Crosbie Heat Pump Solutions
0833830047
Zetta Home Servicing Ltd
0864020716
Zetta.ie
­
Smart Heating
0879918993
SmartHeating.ie
­
KB Renewables
0863696442
­
A2W Servicing Ltd
0860223832
­
Glenmac Heating & Plumbing Ltd
0877497476
­
Crosbie Heat Pump Solutions
0833830047
­
IMECH MECHANICAL LTD
0838515489
KB Renewables
0863696442
­
Zetta Home Servicing Ltd
0864020716
Zetta.ie
­
Smart Heating
0879918993
SmartHeating.ie
­
Crosbie Heat Pump Solutions
0833830047
Zetta Home Servicing Ltd
0864020716
Zetta.ie
­
Smart Heating
0879918993
SmartHeating.ie
­
KB Renewables
0863696442
­
­
Crosbie Heat Pump Solutions
0833830047
­
IMECH MECHANICAL LTD
0838515489
KB Renewables
0863696442
­
Gary Keveney
0879903518
­
heatpumpservicing.ie
838116760
­
Crosbie Heat Pump Solutions
0833830047
­
Bromur Energy
(091)766741
Zetta Home Servicing Ltd
0864020716
Zetta.ie
­
Smart Heating
0879918993
SmartHeating.ie
­
KB Renewables
0863696442
­
Crosbie Heat Pump Solutions
0833830047
KB Renewables
0863696442
­
Smart Heating
0879918993
SmartHeating.ie
­
Crosbie Heat Pump Solutions
0833830047
Zetta Home Servicing Ltd
0864020716
Zetta.ie
­
Smart Heating
0879918993
SmartHeating.ie
­
KB Renewables
0863696442
­
A2W Servicing Ltd
0860223832
­
Glenmac Heating & Plumbing Ltd
0877497476
­
Crosbie Heat Pump Solutions
0833830047
KB Renewables
0863696442
­­
Gary Keveney
0879903518
­­
Eamon Diamond
0876335349
­
heatpumpservicing.ie
838116760
­
Crosbie Heat Pump Solutions
0833830047
­
Bromur Energy
(091)766741
Zetta Home Servicing Ltd
0864020716
Zetta.ie
­­
Smart Heating
0879918993
SmartHeating.ie
­
KB Renewables
0863696442
­
A2W Servicing Ltd
0860223832
­
Glenmac Heating & Plumbing Ltd
0877497476
­
Crosbie Heat Pump Solutions
0833830047
­
IMECH MECHANICAL LTD
0838515489
Zetta Home Servicing Ltd
0864020716
Zetta.ie
­
Smart Heating
0879918993
SmartHeating.ie
­
Crosbie Heat Pump Solutions
0833830047
KB Renewables
0863696442
­
Zetta Home Servicing Ltd
0864020716
Zetta.ie
­
Smart Heating
0879918993
SmartHeating.ie
­
Crosbie Heat Pump Solutions
0833830047
KB Renewables
0863696442
­
Alan Glynn
876316206
­
heatpumpservicing.ie
838116760
­
Crosbie Heat Pump Solutions
0833830047
­
Bromur Energy
(091)766741
KB Renewables
0863696442
­
Gary Keveney
0879903518
­
heatpumpservicing.ie
838116760
­
Crosbie Heat Pump Solutions
0833830047
­
Bromur Energy
(091)766741
Zetta Home Servicing Ltd
0864020716
Zetta.ie
­
KB Renewables
0863696442
­
Crosbie Heat Pump Solutions
0833830047
KB Renewables
0863696442
­
Zetta Home Servicing Ltd
0864020716
Zetta.ie
­
Crosbie Heat Pump Solutions
0833830047
Zetta Home Servicing Ltd
0864020716
Zetta.ie
­
Smart Heating
0879918993
SmartHeating.ie
­
KB Renewables
0863696442
­
Alan Glynn
876316206
­
Crosbie Heat Pump Solutions
0833830047
Zetta Home Servicing Ltd
0864020716
Zetta.ie
­
Smart Heating
0879918993
SmartHeating.ie
­
KB Renewables
0863696442
­
Crosbie Heat Pump Solutions
0833830047
­
IMECH MECHANICAL LTD
0838515489
Zetta Home Servicing Ltd
0864020716
Zetta.ie
­
Smart Heating
0879918993
SmartHeating.ie
­
KB Renewables
0863696442
­
A2W Servicing Ltd
0860223832
­
Glenmac Heating & Plumbing Ltd
0877497476
­
Crosbie Heat Pump Solutions
0833830047
­
IMECH MECHANICAL LTD
0838515489
KB Renewables
Keith
086-3696442
Smart Heating
Declan
087-9918993
Heat Pump Eng Services
Paul
085-7553226
Zetta Limited
Gearoid
zetta.ie
Crosbie Heat Pump Solutions
0833830047
KB Renewables
Keith
086-3696442
Smart Heating
Declan
087-9918993
Zetta Limited
Gearoid
zetta.ie
Crosbie Heat Pump Solutions
0833830047
Thomas Neylan Plumbing & Heating
Thomas
086-1013706
Crosbie Heat Pump Solutions
0833830047
Flowstar Plumbing & Heating
Michael
087-9665248
Eric McCarthy
Eric
086-1651294
Crosbie Heat Pump Solutions
0833830047
Chris O Donnell
Chris
086-3610910
Crosbie Heat Pump Solutions
0833830047
KB Renewables
Keith
086-3696442
Smart Heating
Declan
087-9918993
Zetta Limited
Gearoid
zetta.ie
Crosbie Heat Pump Solutions
0833830047
Smart Heating
Declan
087-9918993
Zetta Limited
Gearoid
zetta.ie
Crosbie Heat Pump Solutions
0833830047
Thomas Neylan Plumbing & Heating
Thomas
086-1013706
Crosbie Heat Pump Solutions
0833830047
Bromur Energy
(091)766741
Flowstar Plumbing & Heating
Michael
087-9665248
Crosbie Heat Pump Solutions
0833830047
KB Renewables
Keith
086-3696442
Smart Heating
Declan
087-9918993
Zetta Limited
Gearoid
zetta.ie
Crosbie Heat Pump Solutions
0833830047
KB Renewables
Keith
086-3696442
Heat Pump Eng Services
Paul
085-7553226
Crosbie Heat Pump Solutions
0833830047
KB Renewables
Keith
086-3696442
Heat Pump Eng Services
Paul
085-7553226
Zetta Limited
Gearoid
zetta.ie
Crosbie Heat Pump Solutions
0833830047
KB Renewables
Keith
086-3696442
Crosbie Heat Pump Solutions
0833830047
Bromur Energy
(091)766741
KB Renewables
Keith
086-3696442
Heat Pump Eng Services
Paul
085-7553226
Flowstar Plumbing & Heating
Michael
087-9665248
Crosbie Heat Pump Solutions
0833830047
KB Renewables
Keith
086-3696442
Smart Heating
Declan
087-9918993
Crosbie Heat Pump Solutions
0833830047
Smart Heating
Declan
087-9918993
Zetta Limited
Gearoid
zetta.ie
Crosbie Heat Pump Solutions
0833830047
Thomas Neylan Plumbing & Heating
Thomas
086-1013706
KB Renewables
Keith
086-3696442
Crosbie Heat Pump Solutions
0833830047
Bromur Energy
(091)766741
KB Renewables
Keith
086-3696442
Smart Heating
Declan
087-9918993
Zetta Limited
Gearoid
zetta.ie
Crosbie Heat Pump Solutions
0833830047
Smart Heating
Declan
087-9918993
Zetta Limited
Gearoid
zetta.ie
Crosbie Heat Pump Solutions
0833830047
KB Renewables
Keith
086-3696442
Heat Pump Eng Services
Paul
085-7553226
Zetta Limited
Gearoid
zetta.ie
Crosbie Heat Pump Solutions
0833830047
KB Renewables
Keith
086-3696442
Crosbie Heat Pump Solutions
0833830047
Bromur Energy
(091)766741
KB Renewables
Keith
086-3696442
Crosbie Heat Pump Solutions
0833830047
Bromur Energy
(091)766741
KB Renewables
Keith
086-3696442
Heat Pump Eng Services
Paul
085-7553226
Crosbie Heat Pump Solutions
0833830047
KB Renewables
Keith
086-3696442
Heat Pump Eng Services
Paul
085-7553226
Crosbie Heat Pump Solutions
0833830047
KB Renewables
Keith
086-3696442
Smart Heating
Declan
087-9918993
Crosbie Heat Pump Solutions
0833830047
KB Renewables
Keith
086-3696442
Zetta Limited
Gearoid
zetta.ie
Crosbie Heat Pump Solutions
0833830047
KB Renewables
Keith
086-3696442
Smart Heating
Declan
087-9918993
Zetta Limited
Gearoid
zetta.ie
Crosbie Heat Pump Solutions
0833830047
WATER HEATING SOLUTIONS
Keith Broadley
07957 440558
M. Farmer Plumbing, Heating & Lead Work
Martin Farmer
07990 570223
M. Farmer Plumbing, Heating & Lead Work
Martin Farmer
07990 570223
M. Farmer Plumbing, Heating & Lead Work
Martin Farmer
07990 570223
WATER HEATING SOLUTIONS
Keith Broadley
07957 440558
M. Farmer Plumbing, Heating & Lead Work
Martin Farmer
07990 570223
M. Farmer Plumbing, Heating & Lead Work
Martin Farmer
07990 570223
WATER HEATING SOLUTIONS
Keith Broadley
07957 440558
WATER HEATING SOLUTIONS
Keith Broadley
07957 440558
WATER HEATING SOLUTIONS
Keith Broadley
07957 440558
Southern Heating Services
Alan O'Neal
07973 258415
­
John Curran
0877015222
­
Crosbie Heat Pump Solutions
0833830047
­
John Curran
0877015222
­
Crosbie Heat Pump Solutions
0833830047
Southern Heating Services
Alan O'Neal
07973 258415
Southern Heating Services
Alan O'Neal
07973 258415
WATER HEATING SOLUTIONS
Keith Broadley
07957 440558
M. Farmer Plumbing, Heating & Lead Work
Martin Farmer
07990 570223
WATER HEATING SOLUTIONS
Keith Broadley
07957 440558
WATER HEATING SOLUTIONS
Keith Broadley
07957 440558
WATER HEATING SOLUTIONS
Keith Broadley
07957 440558
M. Farmer Plumbing, Heating & Lead Work
Martin Farmer
07990 570223
M. Farmer Plumbing, Heating & Lead Work
Martin Farmer
07990 570223
M. Farmer Plumbing, Heating & Lead Work
Martin Farmer
07990 570223
WATER HEATING SOLUTIONS
Keith Broadley
07957 440558
M. Farmer Plumbing, Heating & Lead Work
Martin Farmer
07990 570223
M. Farmer Plumbing, Heating & Lead Work
Martin Farmer
07990 570223
WATER HEATING SOLUTIONS
Keith Broadley
07957 440558
WATER HEATING SOLUTIONS
Keith Broadley
07957 440558
M. Farmer Plumbing, Heating & Lead Work
Martin Farmer
07990 570223
WATER HEATING SOLUTIONS
Keith Broadley
07957 440558
WATER HEATING SOLUTIONS
Keith Broadley
07957 440558
WATER HEATING SOLUTIONS
Keith Broadley
07957 440558
WATER HEATING SOLUTIONS
Keith Broadley
07957 440558
WATER HEATING SOLUTIONS
Keith Broadley
07957 440558
WATER HEATING SOLUTIONS
Keith Broadley
07957 440558
M. Farmer Plumbing, Heating & Lead Work
Martin Farmer
07990 570223
WATER HEATING SOLUTIONS
Keith Broadley
07957 440558
M. Farmer Plumbing, Heating & Lead Work
Martin Farmer
07990 570223
Southern Heating Services
Alan O'Neal
07973 258415
M. Farmer Plumbing, Heating & Lead Work
Martin Farmer
07990 570223
Martin Farmer
07990 570223
WATER HEATING SOLUTIONS
Keith Broadley
07957 440558
WATER HEATING SOLUTIONS
Keith Broadley
07957 440558
M. Farmer Plumbing, Heating & Lead Work
Martin Farmer
07990 570223
WATER HEATING SOLUTIONS
Keith Broadley
07957 440558
WATER HEATING SOLUTIONS
Keith Broadley
07957 440558
M. Farmer Plumbing, Heating & Lead Work
Martin Farmer
07990 570223
Southern Heating Services
Alan O'Neal
07973 258415
M. Farmer Plumbing, Heating & Lead Work
Martin Farmer
07990 570223
M. Farmer Plumbing, Heating & Lead Work
Martin Farmer
07990 570223
M. Farmer Plumbing, Heating & Lead Work
Martin Farmer
07990 570223
WATER HEATING SOLUTIONS
Keith Broadley
07957 440558
WATER HEATING SOLUTIONS
Keith Broadley
07957 440558
M. Farmer Plumbing, Heating & Lead Work
Martin Farmer
07990 570223
WATER HEATING SOLUTIONS
Keith Broadley
07957 440558
M. Farmer Plumbing, Heating & Lead Work
Martin Farmer
07990 570223
M. Farmer Plumbing, Heating & Lead Work
Martin Farmer
07990 570223
M. Farmer Plumbing, Heating & Lead Work
Martin Farmer
07990 570223
WATER HEATING SOLUTIONS
Keith Broadley
07957 440558
WATER HEATING SOLUTIONS
Keith Broadley
07957 440558
WATER HEATING SOLUTIONS
Keith Broadley
07957 440558
M. Farmer Plumbing, Heating & Lead Work
Martin Farmer
07990 570223
Crosbie Heat Pump Solutions
0833830047
Crosbie Heat Pump Solutions
0833830047
Crosbie Heat Pump Solutions
0833830047
Crosbie Heat Pump Solutions
0833830047
Crosbie Heat Pump Solutions
0833830047
Crosbie Heat Pump Solutions
0833830047
Scott Roberts
Area Sales Manager
Mob: 07497112050
Email: scott.r@jouleuk.co.uk
Matthew Nicholson
Area Sales Rep
Mob: 087 454 8155
Email: matthew@joule.ie
James Barrett
Area Sales Rep
Mob: 087 656 3613
Email: james@joule.ie
Ciaran Clohessy
Area Sales Rep
Mob: 087 357 6408
Email: ciaran@joule.ie
Eoin Naughton
Area Sales Manager
Mob: 086 773 5095
Email: eoin@joule.ie
Sean Collins
Area Sales Rep
Mob: 087 692 8114
Email: sean@joule.ie
Eoghan Conway
Area Sales Rep
Mob: 083 176 2372
Email: eoghan@joule.ie
Ronan Ginnell
Group MD
Mob: 077302 17060
Email: ronan@jouleuk.co.uk
Ronan Ginnell
Group MD
Mob: 077302 17060
Email: ronan@jouleuk.co.uk
Andrea Innes
Area Sales Manager
Mob: 07764 961624
Email: andrea.innes@jouleuk.co.uk
Craig McCrudden
Area Sales Manager
Mob: 07495 580932
Adrian M Thompson
Regional Sales Manager
Mob: 07949730432
Paul Steward
Renewable Sales Manager
Mob: 07506 194540
Email: paul@jouleuk.co.uk
Rob Chalkley
Area Sales Manager
Mob: 07983 686720
Email: robert@jouleuk.co.uk