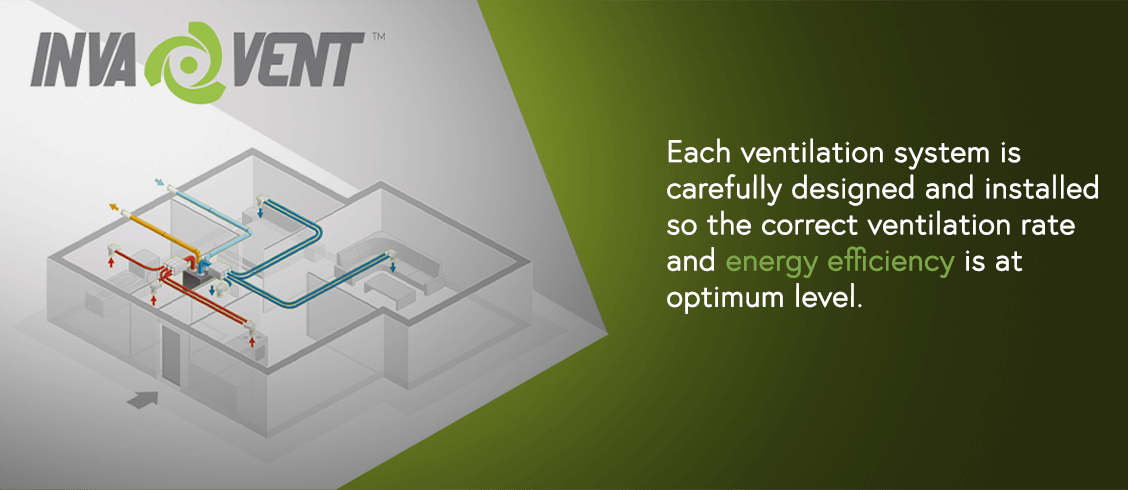 Home Ventilation
Joule supplies complete ventilation systems from mechanical ventilation & heat recovery, mechanical extract ventilation, and demand control ventilation. Each ventilation system is carefully designed and installed so the correct ventilation rate and energy efficiency are at the optimum level.
The ventilation systems supplied by Joule control indoor air quality by diluting and displacing indoor pollutants efficiently. Designing the correct ducting with each ventilation system ensures the highest efficiency with low energy use.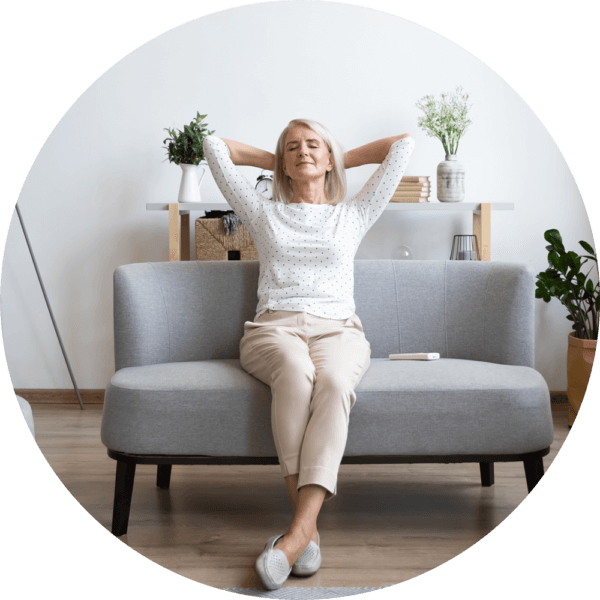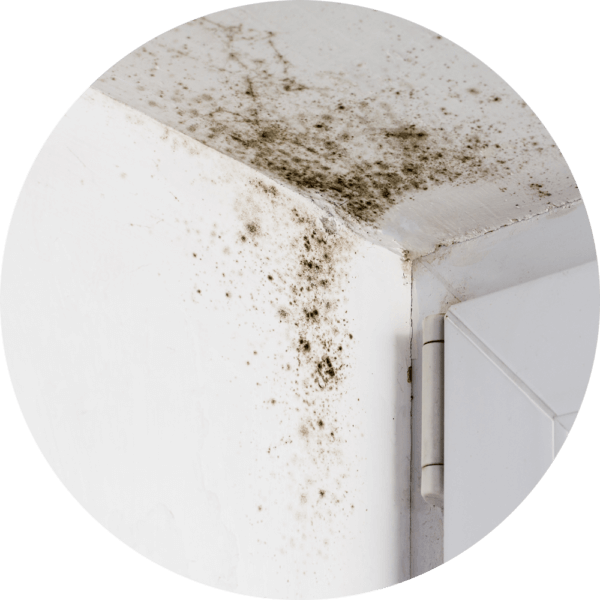 Why is it important to ventilate your home?
Condensation dampness occurs when not enough fresh air is coming into the home to push out the stale, moisture-laden air.
In order to reduce humidity and improve indoor air quality, an average of four 'air changes' per hour is required.
If your home is under-ventilated, you'll notice streaming windows, musty smells, and even patches of black mold.
The problem is excess humidity. The average family of four produce around 17 pints of water per day through everyday activities and this moisture is the cause of condensation dampness.
Mechanical Ventilation & Heat Recovery (MVHR)
The InvaVent Mechanical Ventilation & Heat Recovery system takes control of your home, improving your health, wellbeing, and lifestyle. Mechanical Ventilation with Heat Recovery removes stale damp air and replaces it with pre-warmed fresh filtered air creating a healthier environment with fewer pollutants.
Fresh air is supplied into the system via an external wall vent or roof cowl.
Up to 96% of the heat is recovered from the extract air.
The stale air is removed and exits the building via external wall grille or roof cowl.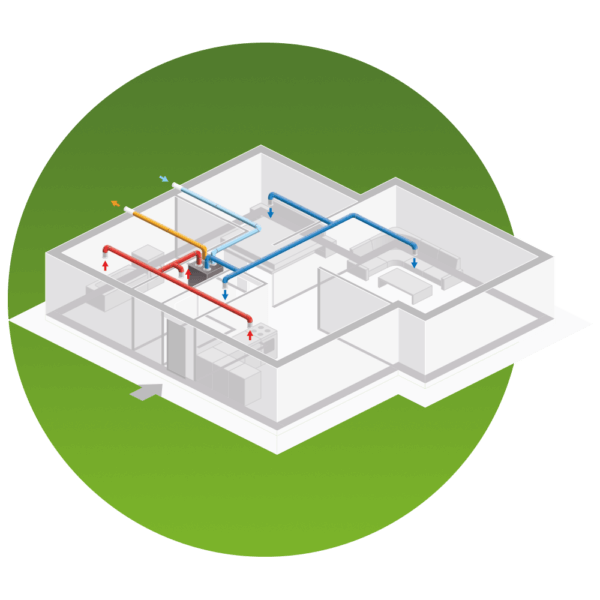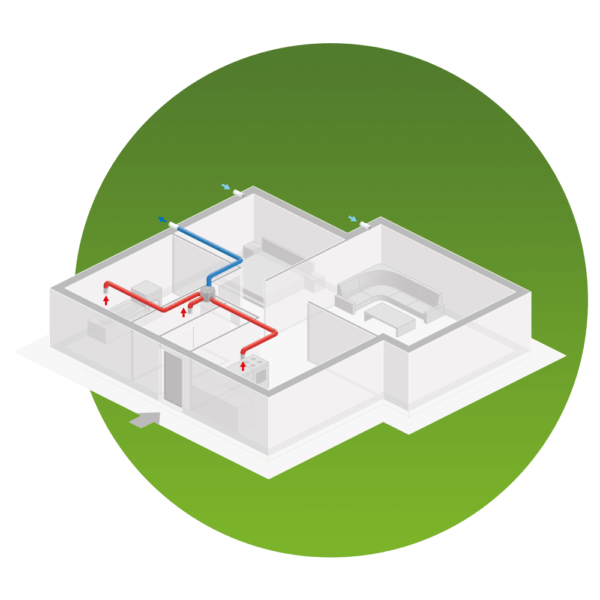 Mechanical Extract Ventilation (MEV)
The InvaVent Mechanical Extract Ventilation systems are predominantly used in dwellings and apartments with five wet rooms or less (dwellings up to 300m2 / 3200sq.ft). The sleek compact InvaVent Maxi Central Mechanical Extraction Ventilation unit is generally installed in the roof space and ducted to all wet rooms.
The extract air is ducted from "wet rooms" to the outside
An MEV can ventilate an entire property without the need for individual extract fans.
Designed to draw moisture-laden air out of the wet rooms, whilst minimising the migration of humidity to other rooms.
Demand Controlled Ventilation (DCV)
The InvaVent DCV system applies humidity sensitive technology to air inlets, grilles, and exhaust units located in rooms where humidity reflects the level of indoor pollution.
Reduced average power consumption
Less clogging of filters, air ducts, and terminals
Increased life of demand-controlled exhaust fans
Greater availability of pressure and airflow for terminals
Reduced size of air ductwork to gain valuable floor space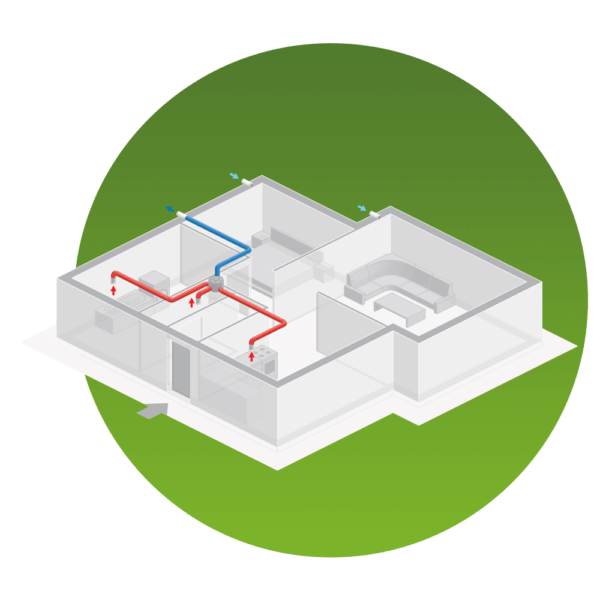 Get a FREE No Obligation Floorplan Design Quote For Your Domestic Or Commercial Property
Zetta Home Servicing Ltd
0864020716
Zetta.ie
­
Smart Heating
0879918993
SmartHeating.ie
­
Crosbie Heat Pump Solutions
0833830047
Zetta Home Servicing Ltd
0864020716
Zetta.ie
­
Smart Heating
0879918993
SmartHeating.ie
­
Crosbie Heat Pump Solutions
0833830047
KB Renewables
0863696442
­
Zetta Home Servicing Ltd
0864020716
Zetta.ie
­
Smart Heating
0879918993
SmartHeating.ie
­
­
Crosbie Heat Pump Solutions
0833830047
­
IMECH MECHANICAL LTD
0838515489
Zetta Home Servicing Ltd
0864020716
Zetta.ie
­
Smart Heating
0879918993
SmartHeating.ie
­
John Curran
0877015222
­
Crosbie Heat Pump Solutions
0833830047
KB Renewables
0863696442
­
Martin Crosbie
0838380047
KB Renewables
0863696442
­
Zetta Home Servicing Ltd
0864020716
Zetta.ie
­
Flowstar Plumbing and Heating
0879665248
­
Eric Mc Carthy
0861651294
­
Crosbie Heat Pump Solutions
0833830047
­
Gary Keveney
0879903518
­
Chris O Donnell
0863610910
­
Trevor Bustard
0876785750
­
John Curran
0877015222
­
Crosbie Heat Pump Solutions
0833830047
Zetta Home Servicing Ltd
0864020716
Zetta.ie
­
Smart Heating
0879918993
SmartHeating.ie
­
KB Renewables
0863696442
­
A2W Servicing Ltd
0860223832
­­
­
Glenmac Heating & Plumbing Ltd
0877497476
­
Crosbie Heat Pump Solutions
0833830047
­
IMECH MECHANICAL LTD
0838515489
Zetta Home Servicing Ltd
0864020716
Zetta.ie
­
Smart Heating
0879918993
SmartHeating.ie
­
Crosbie Heat Pump Solutions
0833830047
KB Renewables
0863696442
­
Paddy Bourke Heating & Plumbing
0877982953
­
Thomas Neylan Plumbing & Heating
086 1013706
­
Alan Glynn
0876316206
­­
Tommy Farragher Heating & Plumbing
0879916019
­
heatpumpservicing.ie
838116760
­
Crosbie Heat Pump Solutions
0833830047
­
Bromur Energy
(091)766741
Oliver Mc Carthy - OM Mechanical
0872302685
­
Flowstar Plumbing and Heating
0879665248
­
Crosbie Heat Pump Solutions
0833830047
Zetta Home Servicing Ltd
0864020716
Zetta.ie
­
Smart Heating
0879918993
SmartHeating.ie
­
KB Renewables
0863696442
­
A2W Servicing Ltd
0860223832
­
Glenmac Heating & Plumbing Ltd
0877497476
­
Crosbie Heat Pump Solutions
0833830047
­
IMECH MECHANICAL LTD
0838515489
KB Renewables
0863696442
­
Zetta Home Servicing Ltd
0864020716
Zetta.ie
­
Smart Heating
0879918993
SmartHeating.ie
­
Crosbie Heat Pump Solutions
0833830047
Zetta Home Servicing Ltd
0864020716
Zetta.ie
­
Smart Heating
0879918993
SmartHeating.ie
­
KB Renewables
0863696442
­
­
Crosbie Heat Pump Solutions
0833830047
­
IMECH MECHANICAL LTD
0838515489
KB Renewables
0863696442
­
Gary Keveney
0879903518
­
heatpumpservicing.ie
838116760
­
Crosbie Heat Pump Solutions
0833830047
­
Bromur Energy
(091)766741
Zetta Home Servicing Ltd
0864020716
Zetta.ie
­
Smart Heating
0879918993
SmartHeating.ie
­
KB Renewables
0863696442
­
Crosbie Heat Pump Solutions
0833830047
KB Renewables
0863696442
­
Smart Heating
0879918993
SmartHeating.ie
­
Crosbie Heat Pump Solutions
0833830047
Zetta Home Servicing Ltd
0864020716
Zetta.ie
­
Smart Heating
0879918993
SmartHeating.ie
­
KB Renewables
0863696442
­
A2W Servicing Ltd
0860223832
­
Glenmac Heating & Plumbing Ltd
0877497476
­
Crosbie Heat Pump Solutions
0833830047
KB Renewables
0863696442
­­
Gary Keveney
0879903518
­­
Eamon Diamond
0876335349
­
heatpumpservicing.ie
838116760
­
Crosbie Heat Pump Solutions
0833830047
­
Bromur Energy
(091)766741
Zetta Home Servicing Ltd
0864020716
Zetta.ie
­­
Smart Heating
0879918993
SmartHeating.ie
­
KB Renewables
0863696442
­
A2W Servicing Ltd
0860223832
­
Glenmac Heating & Plumbing Ltd
0877497476
­
Crosbie Heat Pump Solutions
0833830047
­
IMECH MECHANICAL LTD
0838515489
Zetta Home Servicing Ltd
0864020716
Zetta.ie
­
Smart Heating
0879918993
SmartHeating.ie
­
Crosbie Heat Pump Solutions
0833830047
KB Renewables
0863696442
­
Zetta Home Servicing Ltd
0864020716
Zetta.ie
­
Smart Heating
0879918993
SmartHeating.ie
­
Crosbie Heat Pump Solutions
0833830047
KB Renewables
0863696442
­
Alan Glynn
876316206
­
heatpumpservicing.ie
838116760
­
Crosbie Heat Pump Solutions
0833830047
­
Bromur Energy
(091)766741
KB Renewables
0863696442
­
Gary Keveney
0879903518
­
heatpumpservicing.ie
838116760
­
Crosbie Heat Pump Solutions
0833830047
­
Bromur Energy
(091)766741
Zetta Home Servicing Ltd
0864020716
Zetta.ie
­
KB Renewables
0863696442
­
Crosbie Heat Pump Solutions
0833830047
KB Renewables
0863696442
­
Zetta Home Servicing Ltd
0864020716
Zetta.ie
­
Crosbie Heat Pump Solutions
0833830047
Zetta Home Servicing Ltd
0864020716
Zetta.ie
­
Smart Heating
0879918993
SmartHeating.ie
­
KB Renewables
0863696442
­
Alan Glynn
876316206
­
Crosbie Heat Pump Solutions
0833830047
Zetta Home Servicing Ltd
0864020716
Zetta.ie
­
Smart Heating
0879918993
SmartHeating.ie
­
KB Renewables
0863696442
­
Crosbie Heat Pump Solutions
0833830047
­
IMECH MECHANICAL LTD
0838515489
Zetta Home Servicing Ltd
0864020716
Zetta.ie
­
Smart Heating
0879918993
SmartHeating.ie
­
KB Renewables
0863696442
­
A2W Servicing Ltd
0860223832
­
Glenmac Heating & Plumbing Ltd
0877497476
­
Crosbie Heat Pump Solutions
0833830047
­
IMECH MECHANICAL LTD
0838515489
KB Renewables
Keith
086-3696442
Smart Heating
Declan
087-9918993
Heat Pump Eng Services
Paul
085-7553226
Zetta Limited
Gearoid
zetta.ie
Crosbie Heat Pump Solutions
0833830047
KB Renewables
Keith
086-3696442
Smart Heating
Declan
087-9918993
Zetta Limited
Gearoid
zetta.ie
Crosbie Heat Pump Solutions
0833830047
Thomas Neylan Plumbing & Heating
Thomas
086-1013706
Crosbie Heat Pump Solutions
0833830047
Flowstar Plumbing & Heating
Michael
087-9665248
Eric McCarthy
Eric
086-1651294
Crosbie Heat Pump Solutions
0833830047
Chris O Donnell
Chris
086-3610910
Crosbie Heat Pump Solutions
0833830047
KB Renewables
Keith
086-3696442
Smart Heating
Declan
087-9918993
Zetta Limited
Gearoid
zetta.ie
Crosbie Heat Pump Solutions
0833830047
Smart Heating
Declan
087-9918993
Zetta Limited
Gearoid
zetta.ie
Crosbie Heat Pump Solutions
0833830047
Thomas Neylan Plumbing & Heating
Thomas
086-1013706
Crosbie Heat Pump Solutions
0833830047
Bromur Energy
(091)766741
Flowstar Plumbing & Heating
Michael
087-9665248
Crosbie Heat Pump Solutions
0833830047
KB Renewables
Keith
086-3696442
Smart Heating
Declan
087-9918993
Zetta Limited
Gearoid
zetta.ie
Crosbie Heat Pump Solutions
0833830047
KB Renewables
Keith
086-3696442
Heat Pump Eng Services
Paul
085-7553226
Crosbie Heat Pump Solutions
0833830047
KB Renewables
Keith
086-3696442
Heat Pump Eng Services
Paul
085-7553226
Zetta Limited
Gearoid
zetta.ie
Crosbie Heat Pump Solutions
0833830047
KB Renewables
Keith
086-3696442
Crosbie Heat Pump Solutions
0833830047
Bromur Energy
(091)766741
KB Renewables
Keith
086-3696442
Heat Pump Eng Services
Paul
085-7553226
Flowstar Plumbing & Heating
Michael
087-9665248
Crosbie Heat Pump Solutions
0833830047
KB Renewables
Keith
086-3696442
Smart Heating
Declan
087-9918993
Crosbie Heat Pump Solutions
0833830047
Smart Heating
Declan
087-9918993
Zetta Limited
Gearoid
zetta.ie
Crosbie Heat Pump Solutions
0833830047
Thomas Neylan Plumbing & Heating
Thomas
086-1013706
KB Renewables
Keith
086-3696442
Crosbie Heat Pump Solutions
0833830047
Bromur Energy
(091)766741
KB Renewables
Keith
086-3696442
Smart Heating
Declan
087-9918993
Zetta Limited
Gearoid
zetta.ie
Crosbie Heat Pump Solutions
0833830047
Smart Heating
Declan
087-9918993
Zetta Limited
Gearoid
zetta.ie
Crosbie Heat Pump Solutions
0833830047
KB Renewables
Keith
086-3696442
Heat Pump Eng Services
Paul
085-7553226
Zetta Limited
Gearoid
zetta.ie
Crosbie Heat Pump Solutions
0833830047
KB Renewables
Keith
086-3696442
Crosbie Heat Pump Solutions
0833830047
Bromur Energy
(091)766741
KB Renewables
Keith
086-3696442
Crosbie Heat Pump Solutions
0833830047
Bromur Energy
(091)766741
KB Renewables
Keith
086-3696442
Heat Pump Eng Services
Paul
085-7553226
Crosbie Heat Pump Solutions
0833830047
KB Renewables
Keith
086-3696442
Heat Pump Eng Services
Paul
085-7553226
Crosbie Heat Pump Solutions
0833830047
KB Renewables
Keith
086-3696442
Smart Heating
Declan
087-9918993
Crosbie Heat Pump Solutions
0833830047
KB Renewables
Keith
086-3696442
Zetta Limited
Gearoid
zetta.ie
Crosbie Heat Pump Solutions
0833830047
KB Renewables
Keith
086-3696442
Smart Heating
Declan
087-9918993
Zetta Limited
Gearoid
zetta.ie
Crosbie Heat Pump Solutions
0833830047
WATER HEATING SOLUTIONS
Keith Broadley
07957 440558
M. Farmer Plumbing, Heating & Lead Work
Martin Farmer
07990 570223
M. Farmer Plumbing, Heating & Lead Work
Martin Farmer
07990 570223
M. Farmer Plumbing, Heating & Lead Work
Martin Farmer
07990 570223
WATER HEATING SOLUTIONS
Keith Broadley
07957 440558
M. Farmer Plumbing, Heating & Lead Work
Martin Farmer
07990 570223
M. Farmer Plumbing, Heating & Lead Work
Martin Farmer
07990 570223
WATER HEATING SOLUTIONS
Keith Broadley
07957 440558
WATER HEATING SOLUTIONS
Keith Broadley
07957 440558
WATER HEATING SOLUTIONS
Keith Broadley
07957 440558
Southern Heating Services
Alan O'Neal
07973 258415
­
John Curran
0877015222
­
Crosbie Heat Pump Solutions
0833830047
­
John Curran
0877015222
­
Crosbie Heat Pump Solutions
0833830047
Southern Heating Services
Alan O'Neal
07973 258415
Southern Heating Services
Alan O'Neal
07973 258415
WATER HEATING SOLUTIONS
Keith Broadley
07957 440558
M. Farmer Plumbing, Heating & Lead Work
Martin Farmer
07990 570223
WATER HEATING SOLUTIONS
Keith Broadley
07957 440558
WATER HEATING SOLUTIONS
Keith Broadley
07957 440558
WATER HEATING SOLUTIONS
Keith Broadley
07957 440558
M. Farmer Plumbing, Heating & Lead Work
Martin Farmer
07990 570223
M. Farmer Plumbing, Heating & Lead Work
Martin Farmer
07990 570223
M. Farmer Plumbing, Heating & Lead Work
Martin Farmer
07990 570223
WATER HEATING SOLUTIONS
Keith Broadley
07957 440558
M. Farmer Plumbing, Heating & Lead Work
Martin Farmer
07990 570223
M. Farmer Plumbing, Heating & Lead Work
Martin Farmer
07990 570223
WATER HEATING SOLUTIONS
Keith Broadley
07957 440558
WATER HEATING SOLUTIONS
Keith Broadley
07957 440558
M. Farmer Plumbing, Heating & Lead Work
Martin Farmer
07990 570223
WATER HEATING SOLUTIONS
Keith Broadley
07957 440558
WATER HEATING SOLUTIONS
Keith Broadley
07957 440558
WATER HEATING SOLUTIONS
Keith Broadley
07957 440558
WATER HEATING SOLUTIONS
Keith Broadley
07957 440558
WATER HEATING SOLUTIONS
Keith Broadley
07957 440558
WATER HEATING SOLUTIONS
Keith Broadley
07957 440558
M. Farmer Plumbing, Heating & Lead Work
Martin Farmer
07990 570223
WATER HEATING SOLUTIONS
Keith Broadley
07957 440558
M. Farmer Plumbing, Heating & Lead Work
Martin Farmer
07990 570223
Southern Heating Services
Alan O'Neal
07973 258415
M. Farmer Plumbing, Heating & Lead Work
Martin Farmer
07990 570223
Martin Farmer
07990 570223
WATER HEATING SOLUTIONS
Keith Broadley
07957 440558
WATER HEATING SOLUTIONS
Keith Broadley
07957 440558
M. Farmer Plumbing, Heating & Lead Work
Martin Farmer
07990 570223
WATER HEATING SOLUTIONS
Keith Broadley
07957 440558
WATER HEATING SOLUTIONS
Keith Broadley
07957 440558
M. Farmer Plumbing, Heating & Lead Work
Martin Farmer
07990 570223
Southern Heating Services
Alan O'Neal
07973 258415
M. Farmer Plumbing, Heating & Lead Work
Martin Farmer
07990 570223
M. Farmer Plumbing, Heating & Lead Work
Martin Farmer
07990 570223
M. Farmer Plumbing, Heating & Lead Work
Martin Farmer
07990 570223
WATER HEATING SOLUTIONS
Keith Broadley
07957 440558
WATER HEATING SOLUTIONS
Keith Broadley
07957 440558
M. Farmer Plumbing, Heating & Lead Work
Martin Farmer
07990 570223
WATER HEATING SOLUTIONS
Keith Broadley
07957 440558
M. Farmer Plumbing, Heating & Lead Work
Martin Farmer
07990 570223
M. Farmer Plumbing, Heating & Lead Work
Martin Farmer
07990 570223
M. Farmer Plumbing, Heating & Lead Work
Martin Farmer
07990 570223
WATER HEATING SOLUTIONS
Keith Broadley
07957 440558
WATER HEATING SOLUTIONS
Keith Broadley
07957 440558
WATER HEATING SOLUTIONS
Keith Broadley
07957 440558
M. Farmer Plumbing, Heating & Lead Work
Martin Farmer
07990 570223
Crosbie Heat Pump Solutions
0833830047
Crosbie Heat Pump Solutions
0833830047
Crosbie Heat Pump Solutions
0833830047
Crosbie Heat Pump Solutions
0833830047
Crosbie Heat Pump Solutions
0833830047
Crosbie Heat Pump Solutions
0833830047
Scott Roberts
Area Sales Manager
Mob: 07497112050
Email: scott.r@jouleuk.co.uk
Matthew Nicholson
Area Sales Rep
Mob: 087 454 8155
Email: matthew@joule.ie
James Barrett
Area Sales Rep
Mob: 087 656 3613
Email: james@joule.ie
Ciaran Clohessy
Area Sales Rep
Mob: 087 357 6408
Email: ciaran@joule.ie
Eoin Naughton
Area Sales Manager
Mob: 086 773 5095
Email: eoin@joule.ie
Sean Collins
Area Sales Rep
Mob: 087 692 8114
Email: sean@joule.ie
Eoghan Conway
Area Sales Rep
Mob: 083 176 2372
Email: eoghan@joule.ie
Ronan Ginnell
Group MD
Mob: 077302 17060
Email: ronan@jouleuk.co.uk
Ronan Ginnell
Group MD
Mob: 077302 17060
Email: ronan@jouleuk.co.uk
Andrea Innes
Area Sales Manager
Mob: 07764 961624
Email: andrea.innes@jouleuk.co.uk
Craig McCrudden
Area Sales Manager
Mob: 07495 580932
Adrian M Thompson
Regional Sales Manager
Mob: 07949730432
Paul Steward
Renewable Sales Manager
Mob: 07506 194540
Email: paul@jouleuk.co.uk
Rob Chalkley
Area Sales Manager
Mob: 07983 686720
Email: robert@jouleuk.co.uk